Fri 16 Jan 2015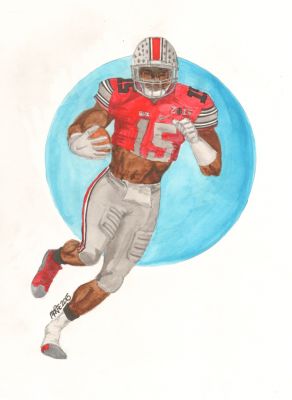 The Ohio State Buckeyes crushed the Oregon Ducks in the first National Championship Game played following a four-team playoff, beating them 42-20. The high scoring Ducks opened the game with a long touchdown drive, capped by a touchdown pass from the Heisman-winning QB, Marcus Mariota. Oregon's quick start proved to be a complete mirage, as the game then turned entirely in the Buckeye's favor for most of the remainder of the contest. OSU drove for the tying touchdown, scored by Ezekiel Elliott on a 33-yard scamper. From there on in, Oregon's offense seemed out of sync going against the Buckeyes and the Ohio State offense, led by its huge and talented offensive line, pushed the Ducks around. After the opening drive, Oregon was seldom able to get into the tempo of their "Blur" offense and mistakes and lack of execution on 3rd and 4th down caused several drives to fizzle. Oregon was particularly ineffective in the red zone, scoring only that opening TD and settling for field goals or turning the ball over on their other opportunities.
For the Buckeyes, Elliott capped off one of the great 3-game streaks in college football history, rushing for a three-game total of nearly 700 yards against Wisconsin, Alabama, and Oregon.
In the championship game, Elliott ran 36 times for 246 yards and 4 touchdowns. He kept drives alive with 3rd- and 4th-down plunges and broke several long gainers that broke the back of the Oregon defense. Along with his teammate, Cardale Jones, Elliott turned in a postseason performance that catapulted the Buckeyes from the fringe of the playoff picture to National Champions. Ohio State returns many talented players next year, including Elliott and Jones, and must be considered the favorite to win it all again in 2015.
Watercolor on Strathmore Multimedia board. Click on the image for a larger version. This painting is also available from Fine Art America.