Sun 4 Jan 2015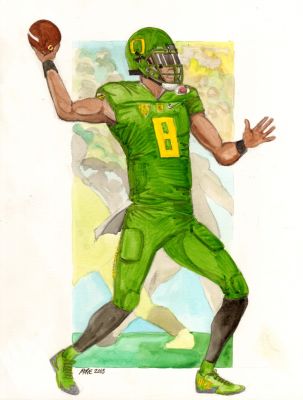 Heisman Trophy winner Marcus Mariota and the Oregon Ducks lived up to their hype as they blasted the defending champion Florida State Seminoles in the first NCAA Division I playoff game in history. The #2 ranked Ducks blew open a tight game in the third quarter and won going away, 59-20, over a tough FSU team that had managed to meet every challenge this season. Their 29 game win streak is over and it is likely that the talented but controversial Jameis Winston has played his last game in a Seminole uniform.
The game was 18-13 at the half, with the Ducks in the lead. In the third quarter, though, the Ducks offense and defence asserted themselves and a torrent of points piled up. Aided by 4 FSU turnovers, the fast-paced Ducks scored 6 touchdowns in the second half. Mariota, who has had one of the most outstanding careers in college football history, passed for 338 yards on 26 of 36 passing and 2 TD's while also rushing for 62 yards and a touchdown as well. He kept the Ducks' Blur Offense rolling and didn't make any critical mistakes, outdueling his fellow Heisman winner Winston.
Oregon now takes on Ohio State for the National Championship on January 12th.
Watercolor on Strathmore Mixed Media board. Click on the image for a larger version. You can also purchase a print here.