Sun 25 Nov 2007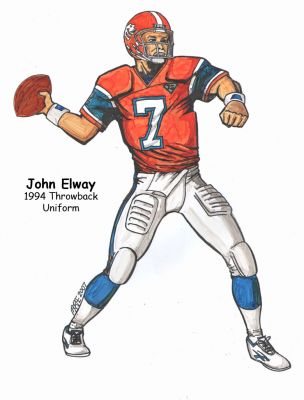 The first pick of the classic draft of 1983 out of Stanford, Elway had a rough rookie start against the Pittsburgh Steelers in his first game but led the Denver Broncos to the playoffs in his second season. His early Superbowl failures were less a reflection on his shortcomings than a testament to the fact that those Bronco teams would never have gotten that far if not for his prodigious talents.
Possessing a rifle arm and a terrific athlete, Elway performed feats of magic at times, throwing 70 yard bombs while on the run. Finally, with the arrival of Mike Shanahan as head coach and a little known sixth round draft choice Terrell Davis, Elway finally tasted a Superbowl victory when the Broncos defeated the defending NFL Champion Green Bay Packers in Superbowl XXXII. The 1998 Broncos, perhaps one of the great teams in NFL history, breezed through the regular season and playoffs. Elway capped his Hall of Fame career by winning the Superbowl MVP award as the Broncos defeated the Atlanta Falcons in Superbowl XXXIII.
Click on the image for a larger version.