Wed 14 Nov 2007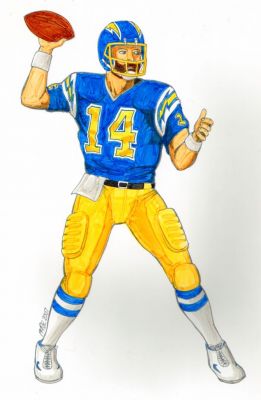 One of my favorite players of all time is Dan Fouts, the quarterback for the San Diego Chargers from 1973 until 1987. Under offensive mastermind Don Coryell, the Chargers played with a bold, high scoring style that utilized some of the best offensive talent ever to be featured on a single team. Running backs Chuck Muncie and James Brooks, tight end Kellen Winslow, wide receivers Charlie Joiner, John Jefferson and later Wes Chandler terrorized NFL defenses as the Chargers threw the ball more than any other team. This was not the dink-and-dunk Bill Walsh offense, this was a daring down-the-field attack that consistently resulted in big plays and touchdowns. The closest any team has come to matching the Chargers of this era was the 1999 St. Louis Rams, whose accurate, but immobile, QB, Kurt Warner, seemed to be channeling the Fouts of the early 80's.
Fouts and the Chargers played in what might be the most exciting game in NFL history, the 1981 Divisional Playoff game against the Miami Dolphins in the Orange Bowl. This seesaw affair featured the Chargers exploding out of the gate to take a 24-0 lead, trail 38-31 in the fourth quarter, then tie the game to send it into overtime. Missed field goals were featured on both sides until Rolf Benirschke finally ended the marathon, winning for the Chargers 41-38. Fouts and Winslow were awesome in this matchup, with Fouts completing 33 of 53 for 433 yards and 3 TD's while Winslow hauled in a record 13 receptions for 166 yards. The Chargers Superbowl dreams were put on ice, however, as they were defeated in the AFC Championship game in Cincinnati where the wind chill was an NFL record -58 degrees.
Dan Fouts never made it to the Superbowl, largely because these Charger teams featured a defense that finished near the bottom of the league every year. His ability to run this high risk, high reward offense so effectively should not be underestimated. Very few teams in the NFL have tried to run a similar offense since, largely due to the fact that you need to have a very special player under center. I was in attendance as Fouts was inducted in to the Pro Football Hall of Fame in 1993.
Click on the image for a larger version.