Mon 4 Nov 2013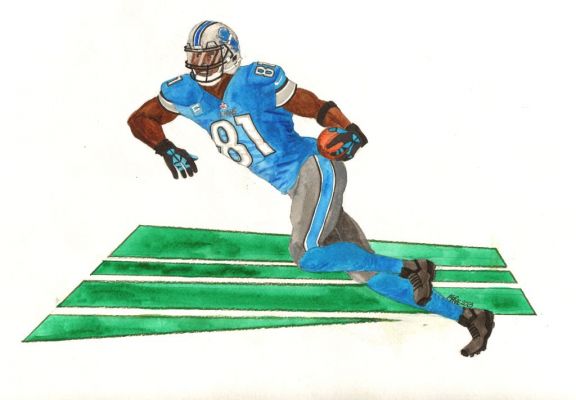 The Dallas Cowboys visited the Detroit Lions and the two teams put on quite a show with the big star being Lions' receiver Calvin Johnson. As the teams went back and forth, Matthew Stafford of the Lions kept looking for and finding his favorite receiver to the tune of 14 catches for a near-record 329 yards. Only Flipper Anderson's 336 yards in a 1989 Rams-Saints game eclipsed what Johnson accomplished on this afternoon. The Lions eventually prevailed as Stafford executed a trick QB sneak with seconds left for a 31-30 win.
Johnson proved to be too much receiver for the Cowboys to handle. He muscled his way past defenders and outraced them after catching the ball, showing his great speed. He scored one touchdown and set up the game winning score with a 22-yard reception. The Lions are a different team when "Megatron" is in the lineup and could contend for the NFC North if Green Bay stumbles.
Pencils and Watercolor on Strathmore Watercolor paper. Click on the images for a larger version.