Sat 26 Oct 2013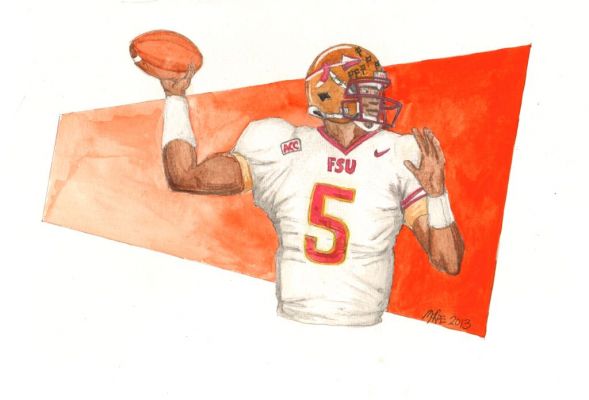 Saturday night featured a big ACC showdown with National Championship implications as the #5 ranked Florida State Seminoles visited Death Valley to take on the #3 ranked Clemson Tigers. The Tigers entered the stadium touching Howard's Rock to a roaring crowd, a crowd that was quickly silenced by the ruthlessly efficient Seminoles, who took at 17-0 lead before the end of the 1st quarter.
The Tigers could not counter as the both the Nole offense and defense performed at an elite level in the 51-14 FSU victory.
At the controls of this scoring machine was freshmen Jameis Winston, who certainly did not shy away from the big spotlight in a primetime, nationally televised game. He played as he has all season, completing 22 of 34 passes for a whopping 444 yards and 3 TD's. His name must be considered for the Heisman and, if the Oregon Ducks or Alabama Crimson Tide slip up, the Seminoles could easily be playing for the BCS Championship in January.
Pencils and watercolor on Canson cold-pressed watercolor block. Click on the images for a larger version.