Sun 6 Oct 2013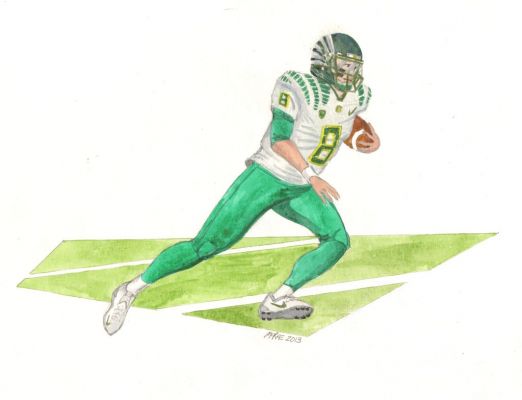 The Oregon Ducks continued their assault on college football as they visited the Colorado Buffaloes on Saturday. Despite the uplifting presence of Ralphie and a scrappy Colorado team, the Ducks "Blur Offence" was as unstoppable as ever.
The Buffs inexplicably kicked field goals after 3 trips inside the Ducks' 20-yard line. With the power of the Oregon offense, this is a recipe for defeat. In this case, after taking a brief 10-8 lead, the Ducks reeled off 21 unanswered points to finish with a first quarter lead of 29-10. Things did not improve in the second quarter as Colorado was outscored 14-5 and finished the half trailing 43-16.
At the controls of this scoring machine is sophomore QB Marcus Mariota. In his second year of running this offense, Mariota has become even more efficient and, in this game, completed 16 of 27 passes for 355 yards and 5 touchdowns while rushing for 43 yards and 2 more TD's. The Oregon attack is as unstoppable as ever and the main reason is the spectacular play of Mariota. In this game, he worked without perhaps the most exciting player in college football, De'Anthony Thomas, and yet, he took a seat halfway through the 3rd quarter as the Ducks had an insurmountable lead, eventually vanquishing the Buffs, 57-16. He has yet to play a full game this year due to the blowouts.
Marcus looks to be a strong candidate for the Heisman Trophy and the Ducks continue to march toward a showdown with Stanford, and following that, a potential berth in the BCS Championship game.
Watercolor on Canson Watercolor Block, click on the image for a larger version.