Tue 17 Sep 2013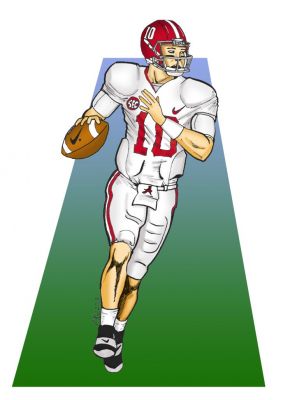 It was an epic showdown in College Station, TX, as the two-time defending national champion Alabama Crimson Tide faced off against the Aggies of Texas A&M and the undisputed star of college football, Heisman Trophy winner, Johnny Manziel. The Aggies were to only team to defeat the Tide a year ago, staging a monumental upset in Tuscaloosa behind the heroics of Manziel. The rematch would prove to be a worthy sequel to last year's thriller.
As was the case in the previous meeting, the Aggies raced out to an early lead, in this case 14-0 in the first quarter as Manziel looked to be his normal, unstoppable self. However, the Tide were completely unfazed by this and ran off 35 unanswered points to take a commanding 35-14 lead in the third quarter. The Tide resurgence was powered mostly by their senior quarterback, A.J. McCarron, who has now officially shed his "game manager" reputation and become a weapon in his own right. He threw for 3 TD's during this span, including a beautiful 51-yard bomb to Kenny Bell off a perfectly executed flea-flicker.
No to be outdone, the Aggies came back with a touchdown of their own, but the Tide again responded with a TD. It was now 42-21 going into the fourth quarter with the game seemingly in the Tide's pocket. Manziel and the Aggies had other ideas, scoring two TD's to draw within 42-35, one of the scores on a 95-yard pass from Manziel to Mike Evans. Once again, the Tide and McCarron fought back as McCarron threw his fourth TD of the day to make the score 49-35. The Aggies scored again, but failed to recover the onside kick and the game ended in the Tide's favor, 49-42.
For the game, McCarron was 20 of 29 for 334 yards and 4 TD's without throwing an interception. Though not as flashy and exciting as "Johnny Football", McCarron calmly and coolly led the Tide to victory and now they have the inside track to a third straight national title.
Pencils on Strathmore Multimedia board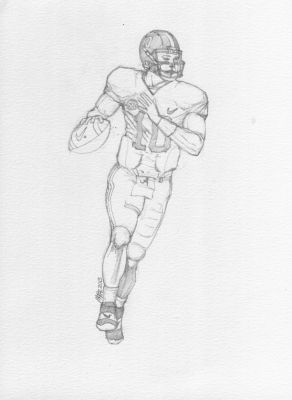 Inks on Strathmore 300lb Bristol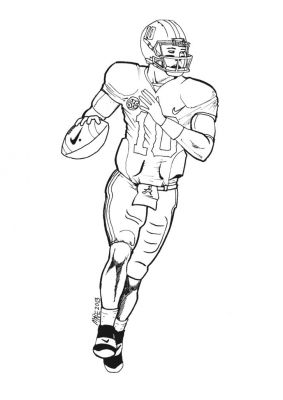 Colors in Photoshop — click on the images for a larger version.