Fri 6 Sep 2013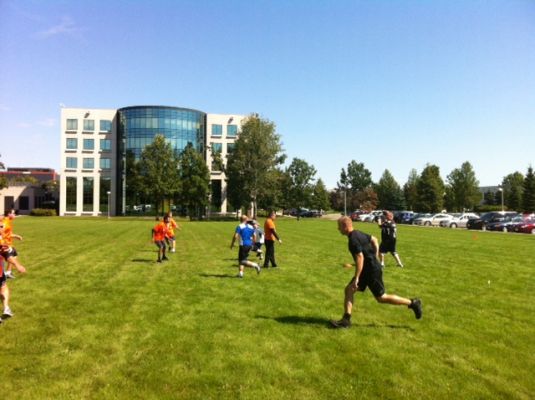 Kanata, ON — The OFL, after a year hiatus, kicked off the 2013 season with a titanic showdown between the defending champion Irish Stout against the expansion Underdogs. The Stout returned perennial All Stars Paul "The Mad Bomber" McRae, Kirk "Flash" Ireland, Bevan "Hominid" Watkiss, and James "Smooth" Muir. They were joined by veteran Louis "Tabernacle" Aubin and rookie Kaushik "Cricket" Thirukonda. The Dawgs featured Brad "Big Play" O'Brien, Neil "Wash" Tubb, Chris "Hands" Yagi, Kris "The Streak" Cieplak, and Sabtain "Wrath of" Khan.
As the teams lined up on legendary Entrust Cryptography Field, the Dawgs won the toss and took the ball, but ran into trouble as Muir picked off O'Brien. The Stout went to work as McRae found Watkiss for a TD and a quick 6-0 lead. Ireland, former defensive player of the year, intercepted Khan on the next series and an accurate McRae laser to Aubin followed by a PAT catch from the rookie Thirukonda made the score 13-0. "Hey, this ball is bigger than the one in cricket!", exclaimed Thirukonda, "I play lots of cricket, you know."
Striking back with a long drive, the Dawgs scored on a Yagi reception from O'Brien, but the Stout retaliated with a flurry of points on Ireland and Aubin touchdowns and a Watkiss conversion for a 26-6 lead. The speedy Cieplak put a little excitement back into the contest, scoring 2 TD's and and a PAT, sandwiched around another Ireland Stout score on a long bomb from McRae.
As the 39-19 contest wound down, a desperation pass from O'Brien was returned for a TD by Muir to make the final 45-19. The ensuing PAT throw off the flea-flicker by Muir was batted away at the last instant from McRae by Tubb, giving the defeated Dawgs something to hang their hat on.
"This is bullsh*t!" exclaimed Dawg GM O'Brien, "We need to make some serious personnel changes around here!" The Dawgs are entertaining any and all trade options and scouring the waiver wire while continuing to refine their playbook. "I want everyone to watch the Philadelphia Eagles Monday night and take notes," said O'Brien, "We are installing the Blur Offense for next week and everyone needs to be on the same page!" For the most part, blank stares greeted this proclamation, but O'Brien was defiant, "And we will have cool black uniforms like Oregon, too!"

BOX SCORE
September 6, 2013
Irish Stout 45, Underdogs 19

Passing
-------
McRae      6 TD, 3 PAT
O'Brien    3 TD, 1 PAT, 2 INT
Khan       1 INT 

Receiving
---------
Ireland    3 TD, 2 PAT
Cieplak    2 TD, 1 PAT
Aubin      2 TD
Watkiss    1 TD, 2 PAT
Yagi       1 TD
Thirukonda 1 PAT 

Defense
-------
Muir       2 INT (1 TD ret)
Ireland    1 INT