Mon 3 Jun 2013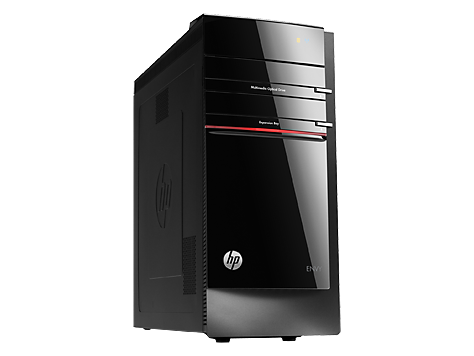 Well, the time finally came to upgrade from my old dual core, 2GB RAM dinosaur. I considered several options:
go Mac — limited customization options and I wasn't sure I could run all of my software and devices
roll your own — looked at this via ShopRBC (which I highly recommend), but couldn't seem to get the price point I wanted
buy a pre-made off-the-shelf system — after seeing the specs on the Envy, this is the route I decided to go
The HP Envy H8-1559 is an AMD-powered 8 core, 8GB RAM desktop computer with an AMD Radeon HD 7570 graphics card and a 2TB hard drive. I accessorized my Envy with a 27-inch HP monitor and wireless Logitech keyboard and mouse. Setup was simple, though Windows 8 requires an account to be setup with Microsoft. I was able to get virtually everything running, my Mustek 1200 A3 scanner needed 64-bit Windows 7 drivers. Stock drivers from Canon worked for my Pixma 9000. Regrettably, this might signal the end of the line for our venerable HP LaserJet 3150, which has not been supported since Vista. Perhaps the open source drivers will allow me to hook it up to our Linux server, but I'm not sure the Windows systems will be able to print to it.
I then installed the Hauppauge 1201 WinTV HVR-1250 PCI-E Hybrid HD Video Recorder TV Tuner Card since the Hauppauge card in my old computer would not fit into the PCI-Express x1 slots that were available on the Envy. I downloaded the latest software from Hauppauge for this card, but it did not work as well as the software provided on the accompanying CDROM (the WinTV application froze sporadically with the newer drivers and software).
For video encoding, the system is quite fast, it can encode a 2 hour movie into H.264 in about 20 minutes using Handbrake. The Beats sound is good (I'm using the optical sound interface to my amp) and the video card has both DVI and HDMI interfaces.
So far, the most annoying part of this experience has been the fact that Windows 8 applications only seem to run at fullscreen. This is ridiculous in the world of multicore processors and 27 inch displays that allow you to have several programs running simultaneously. If I want the Windows 8 version of the Kindle app running in the corner of my screen, apparently I am out of luck.
Next up will be the USB MIDI interfaces and guitar effects software. Overall, I recommend this system as a reasonably priced ($700CDN for the computer) high performance unit. For those of you who need a lot of oomph on your desktop that a notebook can't provide, this might be the system for you.