Tue 5 Mar 2013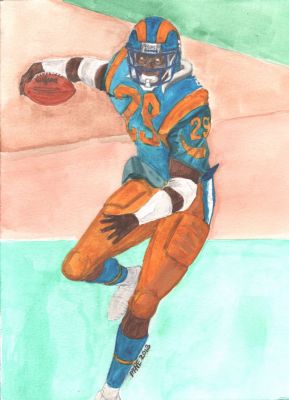 While we have celebrated the amazing season of Adrian Peterson, it is important to remember exactly who set the NFL single season rushing record in the first place, the amazing Eric Dickerson. After a standout career in college at Southern Methodist University as part of the "Pony Express" backfield with Craig James, Dickerson was selected with the second pick in the historic 1983 draft, after John Elway. The Los Angeles Rams had recently hired John Robinson of USC fame as their head coach, so there was little doubt that Dickerson would be a major factor in the offense. His rookie year, he carried the ball 390 times for a rookie record 1808 yards and 18 touchdowns. His rookie rushing records still stands.
This was but a warm-up to his sophomore NFL season in 1984. Dickerson tore up the league as he rushed for 2105 yards on 379 carries and scored 14 touchdowns. Those 2105 yards remain the single season record. What was astonishing to watch about Dickerson was the seemingly effortless way he ran the ball. He ran straight up with such elegance that he never really seemed to be trying very hard. Tacklers would bounce off and his stride remained largely unaffected. He was unusually tall for a running back (6'3″) and lean and wiry at 220lbs, but he ran with tremendous power. His style remains relatively unique in NFL history. Can anyone name a back that runs like Dickerson? Adrian Peterson is almost the anti-Dickerson with his brutal, bone-jarring assault on the defence.
For his career, Dickerson finished as the 2nd leading rusher in NFL history and was enshrined in Canton in 1999.
Pencils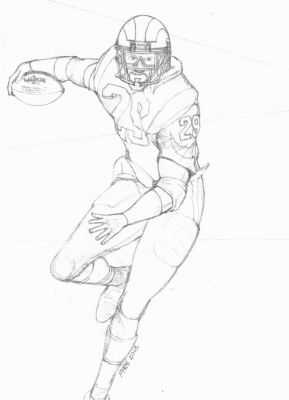 Eric Dickerson at SMU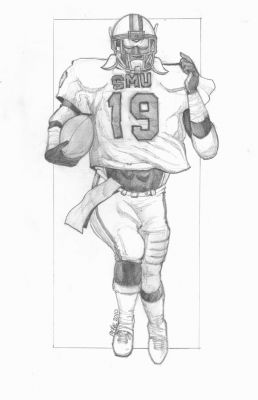 Click on the images for a larger version.
The painting is also available at FineArtAmerica.com.