Sat 16 Feb 2013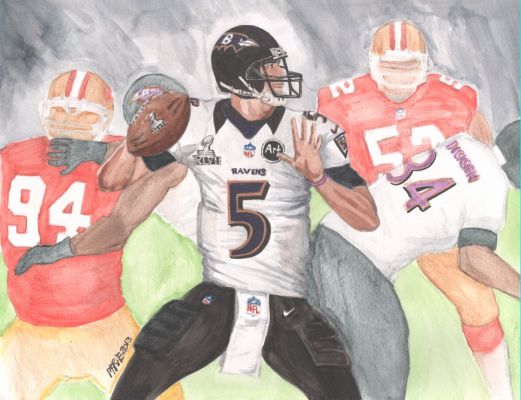 Joe Flacco and the Baltimore Ravens held back a furious rally from the San Francisco Forty-Niners to win Superbowl XLVII 34-31.
With Flacco at the helm, the Ravens raced out to a 28-6 lead, bolstered by 2 Flacco TD throws and an electrifying kickoff return of 108 yards by Jacoby Jones. Maybe too electrifying, as the Superdome lights went out during the ensuing 49'er drive and the game was delayed for 34 minutes. This was just the respite the Niners needed as they came storming out after the unscheduled break to score 17 unanswered points.
As he has all during the post-season, Flacco kept his cool and calmly converted a few first downs to keep drives alive that led to a pair of field goals. With the Ravens leading 34-29, the Niners were not able to score despite having a first and goal from the Baltimore 7. Much will be debated about the play calling, especially since the devastating read-option that had worked for San Francisco ever since they inserted Colin Kaepernick at QB was never called and three passes to Michael Crabtree fell incomplete.
After taking an intentional safety (and cleverly running out most of the clock while doing so), the Ravens stand atop the pro football world as Superbowl Champions. Their quarterback, Joe Flacco, had one of the best postseasons ever and did not shrink away on the big stage, going 22 of 33 for 287 yards and 3 touchdowns without throwing an interception. This was no "game manager" at work here, this was a field general at the height of his powers, unflappable in the face of adversity and seemingly incapable of making the big mistake that had marred his playoff runs in the past.
Click on the images for a larger version.
Sketch and Watercolors on Strathmore Multimedia Paper