Thu 3 Jan 2013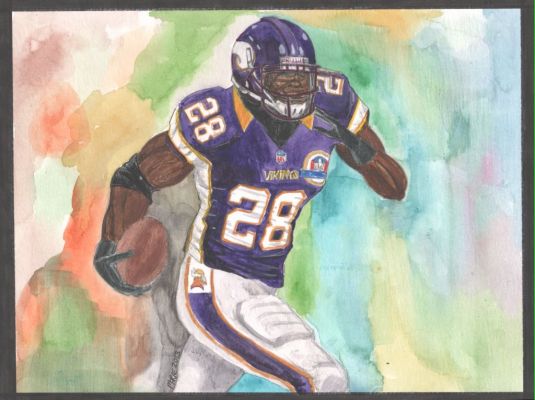 When Adrian Peterson tore up his left knee late in the season last year, no one foresaw the incredible performance he would deliver in 2012. A combination of modern medical treatment and not-from-this-planet genetics allowed Peterson to be at full strength for the season opener and he only got better from there. Going into the season finale against the Green Bay Packers, the Minnesota Viking runner needed 207 yards to break Eric Dickerson's single season rushing record, which has stood since 1984. In a the pass-happy modern NFL, it is surprising that anyone gets even within shouting distance of this milestone. During the season, Peterson regularly had more rushing yards than his team had passing yards. He had nearly 900 more yards rushing by himself than the Arizona Cardinals did as a team.
"All-Day" Adrian Peterson gashed the Packers repeatedly during the game and, with Minnesota's playoff hopes on the line, he took the ball and ran into the left side of the line, juked, and lunged forward for the yardage necessary to allow the Vikings to attempt a game-winning field goal with seconds remaining. It was good and the Purple Gang was off to a rematch with Green Bay in the playoffs, albeit this time on the frozen tundra of Lambeau Field.
For the day, Peterson finished with 199 yards, just 8 short of the record. For the season, he totaled 2097 yards (the second highest total in history) at 6 yards per carry and scored 12 rushing TD's. These numbers would be amazing for anyone, but for a player coming off serious knee surgery, they are truly astounding. Along with the Denver Bronco's Peyton Manning (making an injury comeback of his own), Peterson certainly must be considered for the league MVP honor.