Fri 12 Oct 2007

On the way back from Pittsburgh, we decided on the spur of the moment to take in the Cowboys-Bills tilt on Monday Night at Ralph Wilson Stadium. Being the first Monday Night game in Buffalo since 1994, the Bills' fans were well oiled by kickoff, probably having tailgated since getting off work on Friday.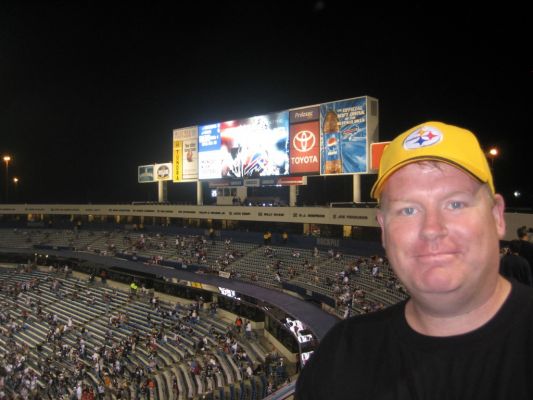 Sitting high up at Ralph Wilson stadium provided a different view of over 70,000 screaming, towel-waving fans. Much more worked up than the Pittsburgh crowd, this crew made a deafening noise that, at times, clearly distracted the Cowboy offense.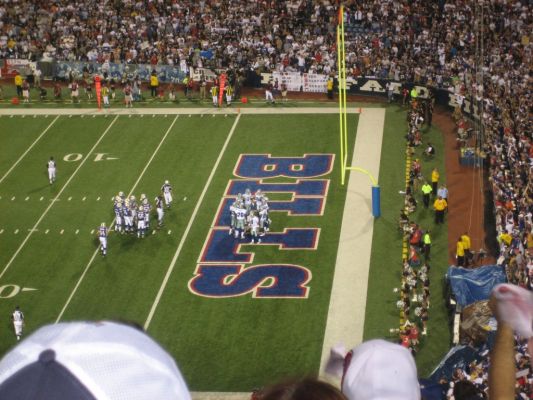 Tony Romo had a terrible game, throwing 5 interceptions and losing a fumble. However, he redeemed himself on the final drive, leading the Cowboys to a touchdown that trimmed the Buffalo lead to 24-22. The 'Boyz then recovered the onside kick and kicked a game-winning 53-yard field goal not once, but twice, due to Dick Jauron taking a timeout just before the ball was snapped. Cowboy fans should be thanking their rookie kicker, Nick Folk, who wasn't fazed by the hostile crowd or the rekick.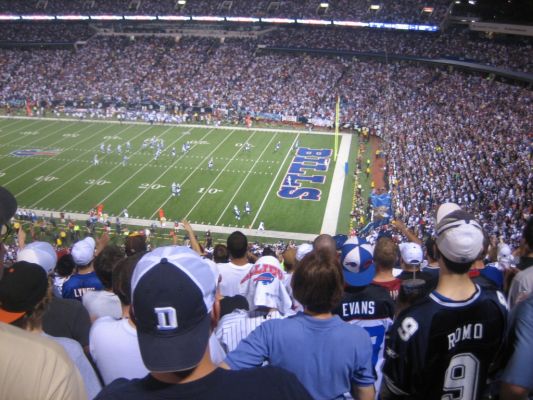 If you look closely at the above photo (click on it for a larger version), you can see Jason Whitten scoring at the upper right on a pass from Romo.
Unfortunately, we left before the Cowboys final drive since we had to make it back to Ottawa at a reasonable hour. The fact is, I probably would not want to be with the Buffalo fans after that loss anyway.
In my opinion, the biggest mistake the coaching staff made was allowing rookie quarterback Trent Edwards to throw when the Bills had the ball at the Cowboy 11 yard line. It was intercepted and run back past midfield by Dallas. Though the Bills intercepted Romo on the ensuing series, this was still 3 points that they did not get that would have been the deciding points at the end of the game.
The rest of the photos can be seen here.