Sun 2 Dec 2012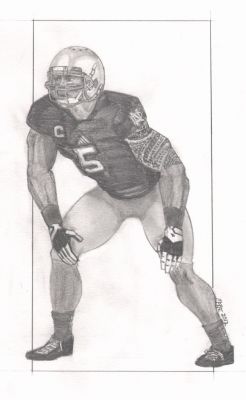 Linebacker Manti Te'o has had an excellent season for the Notre Dame Fighting Irish exemplified by their stellar 12-0 record and their ability to win close games. The Irish defense is the heart of this team and Te'o is their undisputed leader. After defeating their arch nemisis, the USC Trojans, in the season finale, Notre Dame assured themselves a spot in the BCS Championship game. Their opponent will be the Alabama Crimson Tide, who defeated a feisty Georgia Bulldog squad in the SEC championship game.
Despite the fact that the Irish are 9-point underdogs to the Tide, their defense led by Te'o, might be able to keep them in the game since Alabama lacks an explosive offense. If Notre Dame can slow down the Alabama running game, they have a chance. A large part of the responsibility for this will fall to Te'o, who anchors the Irish defense in the middle. Te'o will have his chance to cement his place in college football lore if he is a key factor in an Irish win over the Tide.
Te'o will be invited to New York for the Heisman ceremony and might become the first full-time defensive player to win the award. Cornerback Charles Woodson from Michigan won the Big Doorstop in 1997, but he also played on offense and special teams. Te'o is the first true defensive player to challenge for the trophy since Hugh Green in 1980.
Click on the image for a larger version.
Pencil on Strathmore Multimedia Paper