Sun 29 Apr 2012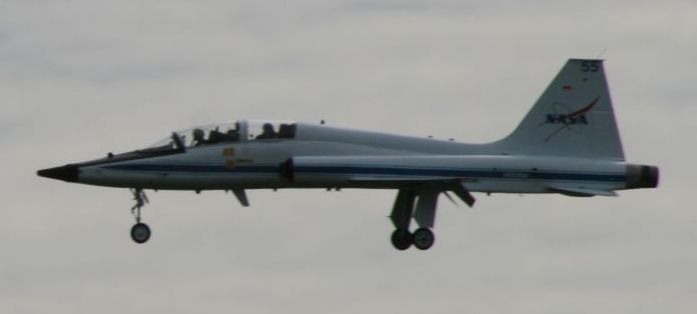 To replace the aging fleet of Lockheed T-33 Shooting Star training jets, the USAF turned to Northrop, who adapted their F-5 Freedom Fighter airframe into a 2-seat trainer they dubbed the T-38 Talon. The T-38 first flew in 1959 and continues to be a front line trainer for the USAF to this day. The T-38 has also served in the air forces of Germany, Turkey, Taiwan, Portugal, and South Korea.
Perhaps the T-38's highest profile role has been as the chase plane for various USAF programs and NASA. The chase plane's role is to keep pace with another craft carrying out a mission and observe the other craft to detect any anomalies or problems, such as checking to make sure landing gear is properly deployed. The chase plane is also responsible for photographing the mission where possible.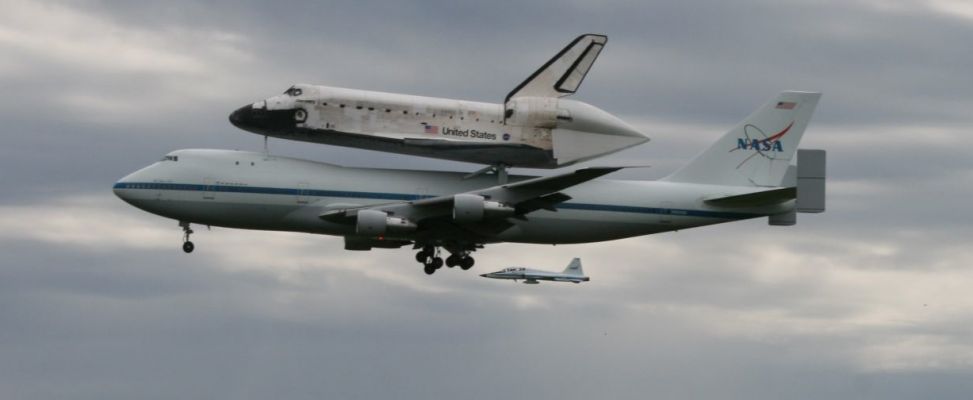 Above, the T-38 can be seen keeping an eye on the NASA 747 Shuttle Carrier Aircraft as it brings Discovery to the Smithsonian Air and Space Museum on April 17, 2012.
The NASA astronauts also fly the T-38 both to enable them to quickly commute between Houston and Cape Kennedy, as well as to keep their flying hours current. Sadly, several astronauts have lost their lives in T-38 accidents, most notably when Elliot See and Charlie Bassett crashed into the McDonnell building where their Gemini spacecraft was being prepared. C.C. Williams perished in a fatal crash which eventually led to Alan Bean being selected to fly on Apollo 12 (the Apollo 12 mission patch has 4 stars, one commemorating Williams).
Northrop T-38 Talon
Speed: 858 mph
Ceiling: 50,000 ft
Armament: none
Crew: 2