Sat 28 Apr 2012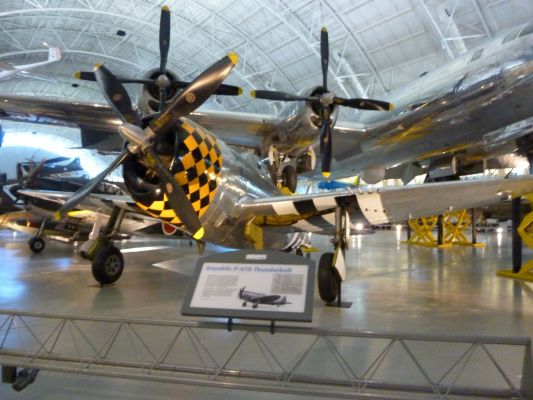 The Republic P-47 Thunderbolt, affectionately known to its pilots as "The Jug", was the largest single engine piston fighter of World War II. Weighing in at a ponderous 17,500 lbs fully loaded, the Thunderbolt was a surprisingly nimble and deadly adversary in both the European and Pacific theatres, largely due to the performance of its Pratt & Whitney R2800 Double Wasp engine.
Some pilots approached the speed of sound in a power dive with the P-47 and the big fighter became the first piston engine aircraft to exceed 500 mph. Flown by USAAF aces Robert Johnson (27 kills) and Francis "Gabby" Gabreski (28 kills), pilots knew that their plane could deliver a lethal blow while taking tremendous punishment. Many times the Jug would limp home when any other aircraft would have succumbed to the damage. Johnson recounts flying home nearly blind from a severed hydraulic line in a badly shot up P-47 in his book "Thunderbolt".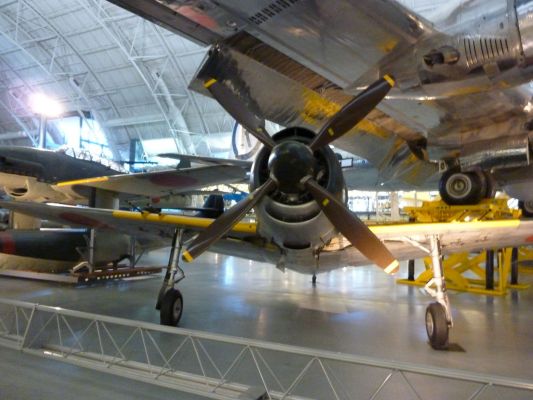 The 13-foot Curtiss propeller is clearly visible in the above photo — pilots had to be cautious as there was only 6 inches of clearance between the propeller and the ground during landing and takeoff.
The Jug also carried a formidable array of eight .50in machine guns (four in each wing) and was capable of hauling up to 2500 lbs of bombs, Later variants were equipped with rockets for ground attack and drop tanks to extend the range. A prototype of the P-47 first flew in May, 1941 and over 15,000 P-47's were built. These rugged planes served in various air forces well into the 1950's.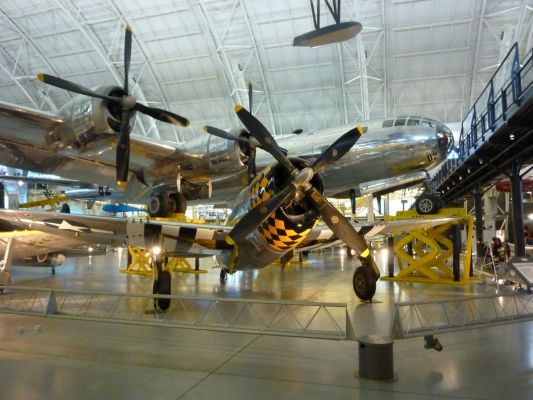 Pictured here is a P-47D from the Smithsonian National Air and Space Museum at the Stephen F. Udvar-Hazy Center. This version featured the teardrop canopy that gave the pilot greater visibility, particularly to the rear.
Republic P-47D Thunderbolt
Speed: 433 mph
Ceiling: 49,994 ft
Armament: 2,500 lbs of bombs, 8 .50in machine guns
Crew: 1