Sat 18 Feb 2012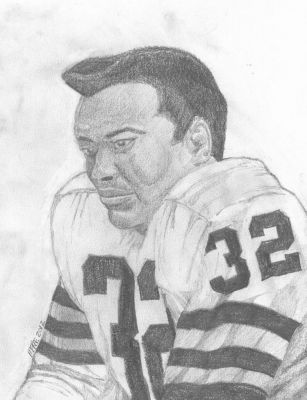 The amazing Jim Brown turns 76 today. Brown, who had an outstanding career at Syracuse, is considered to be the best running back in NFL history. He played 9 seasons for the Cleveland Browns, led the NFL in rushing 8 times, and finished his career as the leading rusher in league history. In addition, he set the NFL records for yardage in a single season (1863) and yards per carry (5.2). All of these records were set in a 12- and 14-game season as opposed to the 16-game season.
In a startling move, Brown retired after the 1965 season (and was Pro Bowl Back of the Game in his final contest). His career rushing record was not eclipsed until Walter Payton overtook him in 1984, a testament to the magnitude of that achievement.
Brown went into acting with some success and has championed many activist causes. He has remained true to his ideals, despite the fact that this has rubbed many the wrong way. Nonetheless, nothing can detract from his performance on the gridiron, where his accomplishments still stand up today. And at a playing height and weight of 6'2″ and 232 pounds, there is little doubt that a young Jim Brown would be able to be effective if not dominant in the NFL today.