Wed 18 Jan 2012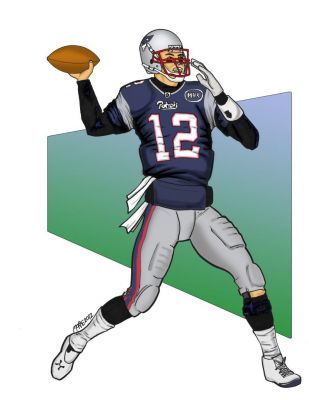 As readers of this space know, I have no love for Tom Brady or the New England Patriots. I have seen them beat my Pittsburgh Steelers on too many occasions. However, there can be no doubt that the best performance turned in last week was that of Tom Terrific, as he had his way with the Denver Broncos' defense. Brady completed 26 of 34 passes for 363 yards and a whopping 6 touchdowns, 5 in the first half as the Pats buried Tim Tebow and the Broncos, 45-10. The Broncos failed to contain Rob Gronkowski, who was the beneficiary of 3 of Brady's TD strikes while the other tight end, Aaron Hernandez, also caught a touchdown.
The Patriots move on to face the Baltimore Ravens in the AFC Championship game. The Ravens are unlikely to allow the New England tight ends to roam around in the secondary unmolested and everyone knows now that jamming Wes Welker at the line of scrimmage disrupts the delicate timing of the Patriot attack. However, Baltimore is unlikely to be able to muster enough offense to keep up with the Pats. It will take a big game by Joe Flacco and Ray Rice to topple the AFC top seed.
As always, click on the image for a larger version.