Thu 5 Jan 2012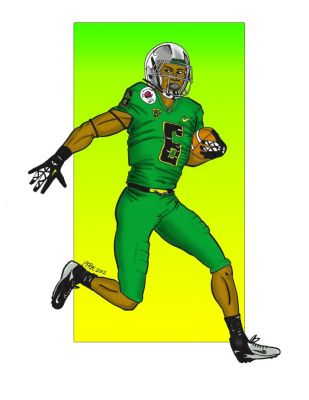 Bowl Day isn't what it used to be, what with the major bowls opting to broadcast without competition on the week nights following the big football feast, but Monday proved to be an exciting time for pigskin lovers as both the granddaddy of them all, the Rose Bowl, and the Fiesta Bowl later that night, went down to the wire.
The Rose matched up the PAC-12 champion Oregon Ducks, the most exciting offense in college football, against the Big-10 champs (whose conference name, with the addition of a 12th team, has become increasingly ridiculous), the Wisconsin Badgers. From the opening drives, it was obvious that Oregon was going to have a tough time stopping Wisconsin, with their enormous, home-grown, cheese-eating lineman able to push around the Ducks defensive front. Opening holes for Montee Ball and Co. and with efficient passing from Russel Wilson, the Badgers took a 7-0 lead. And no one can stop the Ducks, as they roared down the field and scored, with LaMichael James plowing in from the 1 yard line. It basically continued like this into the fourth quarter, when the Ducks' Lavasier Tuinei hauled in an 11-yard pass from Darron Thomas to put Oregon in front 42-38. Amazingly, the Ducks managed to hold Wisconsin scoreless for the entire quarter and tacked on a field goal to make the final 45-38. Wisconsin was driving for the tying TD when time ran out.
Oregon's offense was sparked by diminutive De'Anthony Thomas, who scored on a Rose Bowl record 91-yard run at the end of the first quarter and followed those pyrotechnics up with a 64-yard scoring jaunt in the third. Thomas, who is 5'9″ and 160lbs, showed tremendous speed in outrunning the entire Wisconsin defense on both occasions. In addition, he caught 4 passes for 34 yards.
Pencils on Strathmore 80lb sketch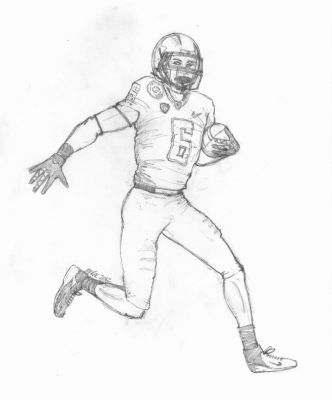 Inks on Strathmore 300 bristol