Mon 20 Dec 2010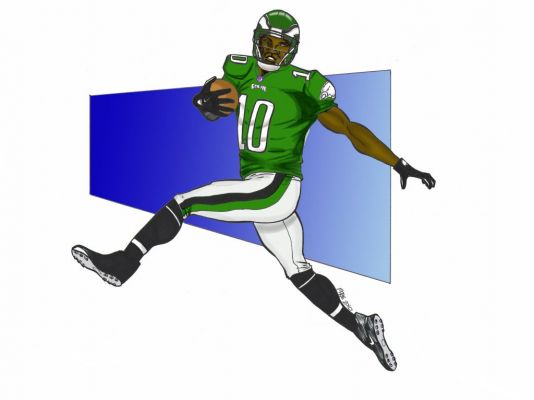 DeSean Jackson electrified the NFL on consecutive weekends as his Philadelphia Eagles won road games at Dallas over the Cowboys and, in stunning fashion, at the Meadowlands over the New York Giants to take the driver's seat in the NFC East.
Against the Cowboys, Jackson was an offensive machine, racking up 210 yards on only 4 receptions and scoring a touchdown on a 91-yard catch and run on the fourth quarter. However, this was but a warm up for the following Sunday. With 14 seconds left and the game tied at 31 after a furious comeback by the Eagles in the fourth quarter, Giants' punter Matt Dodge caught a high snap and booted a line drive up the middle toward Jackson. Jackson bobbled the punt, reached down and scooped it up, and took off like a rocket through the middle of the Giants' punt coverage team. He angled to the right sideline and held the ball aloft as he saw there were no defenders close enough to tackle him. In a move either demonstrating his football smarts or his hot-dogging nature, Jackson then jogged parallel to the goal line until time expired before scoring the game winning touchdown. Final: Eagles 38, Giants 31.
The touchdown capped a fourth quarter that saw the Eagles score 28 points in less than 8 minutes to win the game despite trailing 31-10. The image of Giants' coach Tom Coughlin confronting his punter and screaming "I told you to kick it out of bounds!" will be one of the most enduring memories of the 2010 season.
Pencils on Strathmore 300 Bristol: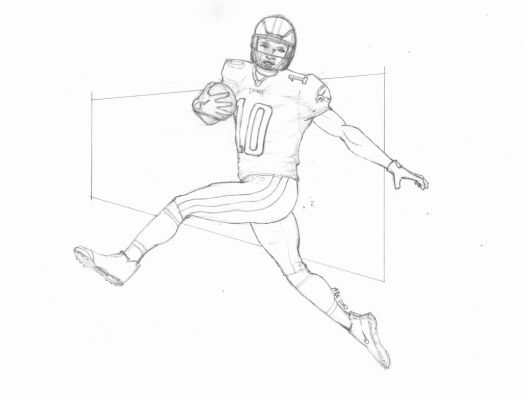 Inks on Strathmore 300 Bristol with PS fixups: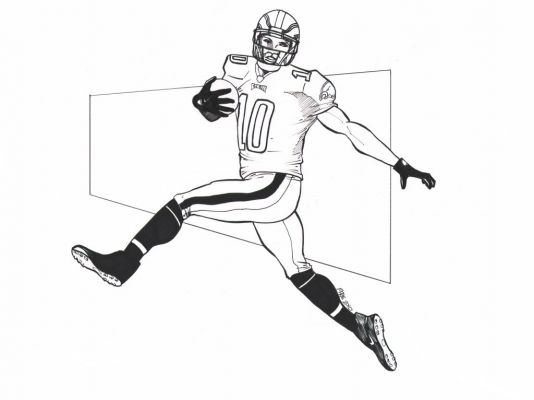 Colors in PS.
Click on the images for a larger version.