Sun 20 Dec 2009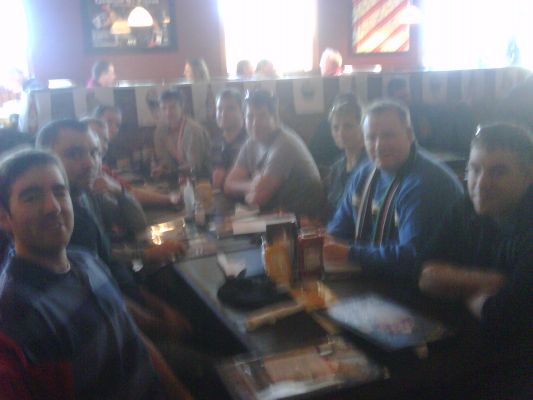 Pictured clockwise, Eric "Les Mains" Nadeau, Louis "Plus Vite" Aubin,
John "Are You Sarah" O'Connor, Josh "Tank" Lucas, Gerry "Rice" Chartrand,
Peter "The Rabbit" Arseneau, James "Smooth" Muir, Bevan "Hominid" Watkiss, Larisa "Jerry Jones" Christensen, Paul "The Mad Bomber" McRae, Kirk "Flash" Ireland.

Kanata, ON — The OFL wrapped up the 2009 season with a gala luncheon held at the Local Heroes attended by most of the active OFL players. The league crowned the undefeated 10-0 Irish Stout as champions for the fourth straight year with the French Foreign Legion finishing second. In addition, individual accomplishments were acknowledged as the league's awards were issued by assistant commissioner Larisa Christensen.
Foreigner of the Year
John O'Connor brought home the Foreigner of the Year award for the second straight time. "Playing a few games with the Stout didn't hurt," he noted.
Rookie of the Year
It was no contest for Rookie of the Year as Gerry Chartrand won in a unanimous vote. The dynamic receiver even cracked a wide smile as he was handed his award saying, "Hey, is this beer really free?"
Defensive Player of the Year
The Defensive Player of the Year award went to Louis Aubin, who proudly showed it to the waitress. "I ran back an interception for a safety!" he exclaimed. "That's very nice," she replied, "Here are your wings."
Offensive Player of the Year
The normally stoic James Muir accepted the Offensive Player of the Year award with a big thumbs up. The league's leading scorer composed himself however, saying "Oooh, I'm feeling tipsy after this glass of ale. I wouldn't want to lose my inhibitions!"
Most Valuable Player
For the fourth consecutive year, the league's leading passer, Paul McRae, was the recipient of the MVP award, this time by a narrow margin. The ever-humble McRae gave all the credit to his teammates. "They executed the plays I designed and caught the passes I threw, for the most part," he said, "Hey, even Brett Favre never threw 42 TD's after turning 40!" The entire room was moved.
The OFL looks forward to the 2010 season as the Irish Stout go for their fifth consecutive league title.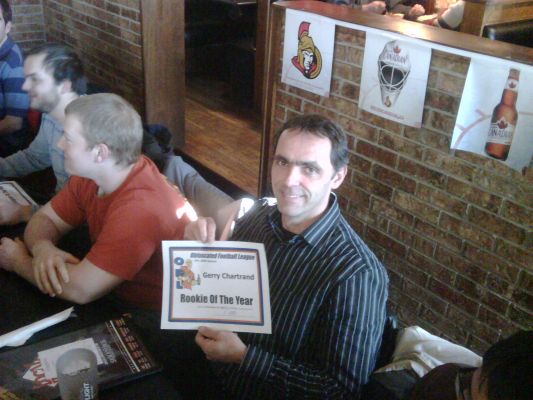 Rookie of the Year, Gerry Chartrand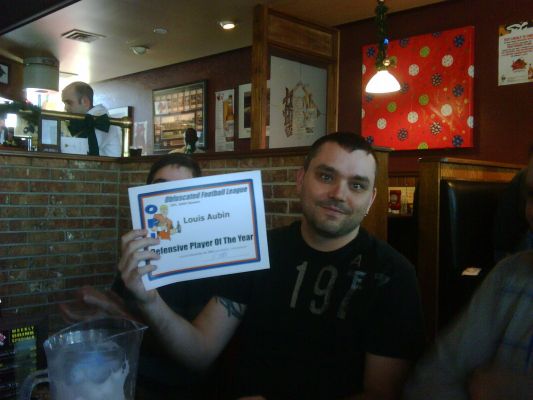 Defensive Player of the Year, Louis Aubin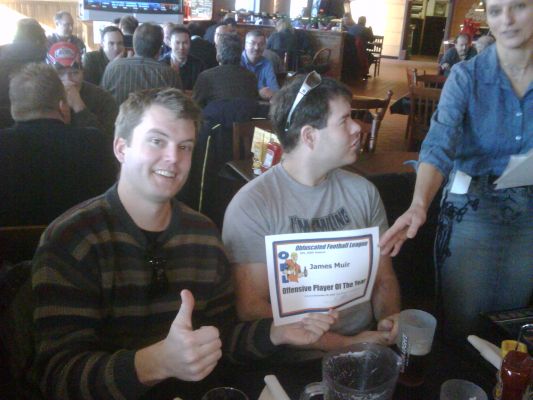 Offensive Player of the Year, James Muir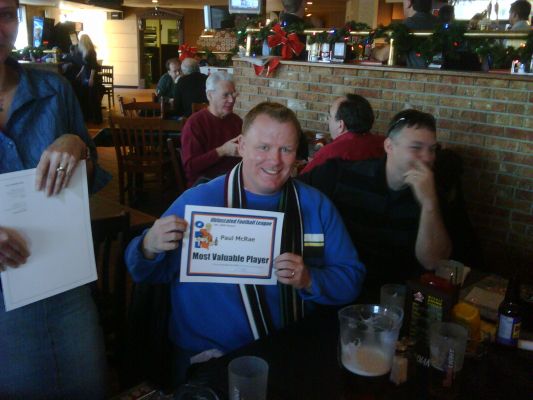 Most Valuable Player, Paul McRae