Thu 3 Dec 2009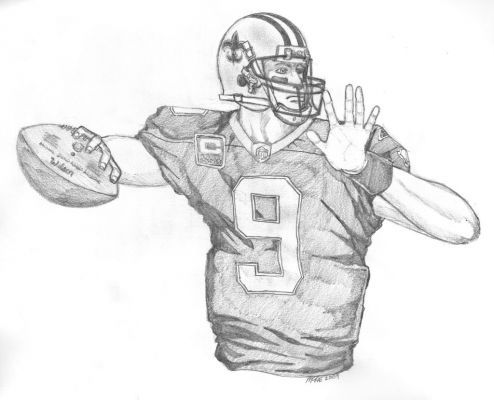 Drew Brees put on quite a show on Monday night with his explosive performance against the highly touted New England Patriots. In what would be one of the tougher tests for the undefeated New Orleans Saints, Brees threw for five touchdowns as the Saints routed the Pats 38-17. Apparently Belichick was unable to steal either the offensive or defensive signals as Brees completed 18 of 23 for a whopping 371 yards while Tom Brady was pulled from the game with 5 minutes to go.
The Saints now join the Colts at 11-0 as the NFL's only remaining undefeated teams. The 1972 Miami Dolphins will continue to chill their champagne for at least another week.
Click on the image for a larger version. Pencil on Strathmore sketch paper.