Sun 27 Sep 2009
Jacory Harris has sparked a Miami Hurricane resurgence, leading the Canes to wins over ranked opponents Florida State in Tallahassee and the hard running Georgia Tech Yellowjackets at Land Shark Stadium. The Canes were embarassed by the Jackets last year as Georgia Tech rolled up 472 yards rushing. This years was different as the Hurricane defense asserted itself and held the triple option to 95 yards on the ground.
Running new offensive coordinator Mark Whipple's offense to perfection, Harris completed 20 of 25 for 270 yards and 3 touchdowns as the Canes dominated 33-17. Jacory looked cool in the pocket and used his legs to create plays when necessary. The schedule doe not get any easier with a trip to Blacksburg to play Virginia Tech and a visit from the mighty Oklahoma Sooners next up. Hopefully the Hurricanes can keep it going and make some noise in the National Championship picture.
Pencils on Strathmore 300 Bristol: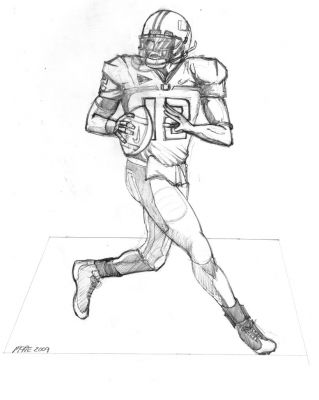 Inks on Strathmore 300 Bristol with some Photoshop fixups: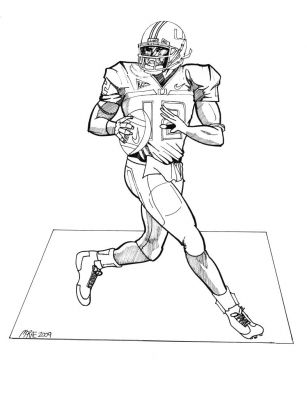 Colors in PS.