Sun 20 Sep 2009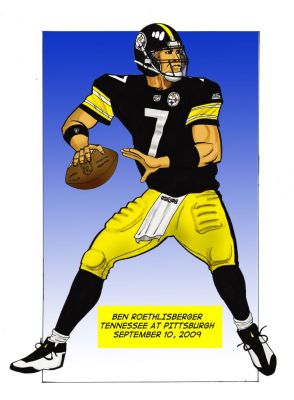 With the Pittsburgh Steelers running game sputtering and facing a tough defense in the Tennessee Titans, the Steelers rallied behind their leader, Ben Roethlisberger, to tie and then beat the Titans in overtime, 13-10 on the opening night of the 2009 NFL season.
The Superbowl champion Steelers had difficulty mounting scoring drives against the Titans, who played tough defense. The Steelers play some pretty tough 'D' themselves, as evidenced by Troy Polamalu's kamikaze drop of Chris Johnson and his one-handed interception of Kerry Collins. Ben threw a 34 yard TD pass to Superbowl hero Santonio Holmes and then drove the Steelers into field goal range in overtime, where Jeff Reed won the game.
Ben was 33 of 43 for 363 yards with 1 TD and 2 interceptions. The Steelers managed only a paltry 36 yards on the ground, so Ben's accuracy and effectiveness was particularly needed this night.
Click on the image for a larger version.
Pencils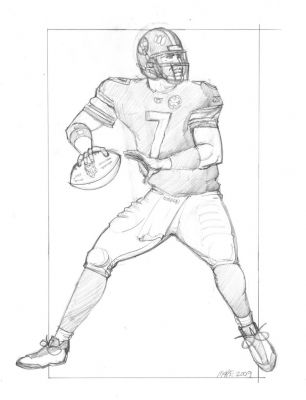 Inks