Mon 16 Feb 2009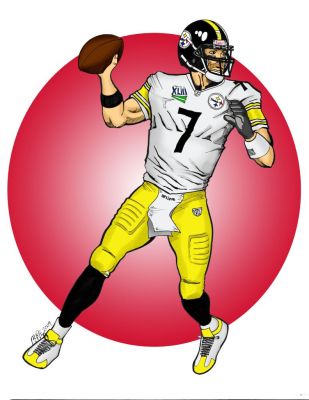 Not quite overlooked, but perhaps unappreciated, was the performance of Pittsburgh Steelers quarterback Ben Roethlisberger in Superbowl XLIII. Due to his subpar performance in Superbowl XL, Ben came into the big game with something to prove. In the intervening years between the Steelers appearance in the Roman numeral classics, Ben has matured as a passer and as a team leader. This season alone, he drove the Steelers to victories in the fourth quarter or overtime five times. In the Superbowl, he completed 21 of 30 for 256 yards, with an interception off a deflection and the winning touchdown pass to Santonio Holmes with 35 seconds to go.
Ben stayed composed during the entire game, even when drives were ending in field goals instead of touchdowns. Resisting the temptation to make a risky throw, he kept scrambling to extend the play and grind out first downs. Even with Hines Ward operating at less than peak efficiency due to a knee injury, Ben managed to find Miller, Washington, and Holmes to keep drives alive and keep the sticks moving.
No more were Ben's talents and maturity demonstrated than on the final drive following the stunning 64 yard touchdown by Larry Fitzgerald that gave the Cardinals the lead with less than four minutes remaining. Despite a holding penalty on the first play that made the distance to go 88 yards, Ben calmly directed the Steelers down the field, hitting Holmes again and again, scrambling, picking up a first down throwing to Nate Washingtin, finally setting up for a do or die series at the Arizona 6 yard line. On the first play his pass was a little high, but probably could have been caught by Holmes in the left corner. On second down, Ben exhausted virtually all options before lasering a pass into the leflt corner over the outstretched arms of the Cardinal defender into the waiting hands of Holmes, who made an all-time great catch to secure the Steelers' sixth Superbowl victory.
Drawing Notes
Pencils on Strathmore 300 vellum finish bristol…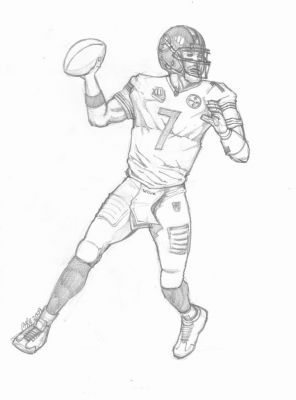 Inks of Strathmore 300 smooth finish bristol…