Sat 7 Feb 2009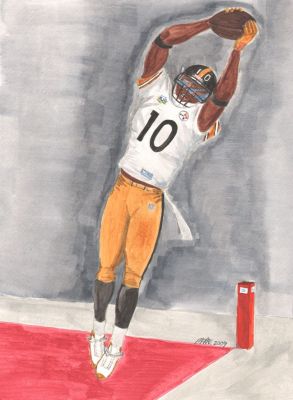 Santonio Holmes' TD catch of a Ben Roethlisberger pass with 35 seconds to go gave the Pittsburgh Steelers a 27-23 victory over the Arizona Cardinals and gave the Steelers their sixth Lombardi Trophy, setting them apart as the team with the most championships of the Superbowl era. In what will be considered one of, if not the most, exciting Superbowls in history, the Steelers took an early 20-7 lead (in a large part due to the incredible 100 yard interception return by James Harrison) and watched as the Cardinals, behind the passing of Kurt Warner and the acrobatic receiving of Larry Fitzgerald went ahead 23-20 following a 64 yard Fitzgerald reception that saw him outrace the entire Steeler defense.
The Steelers started their do-or-die drive 78 yards from the Cardinal endzone, that distance quickly increased to 88 yards on a holding penalty. Ben continually found Holmes open and hit him repeatedly, the penultimate completion a 40 yarder down to the Arizona 6 yard line. As Steelers fans held their collective breaths, Ben dropped back, rolled left and lofted a pass to Holmes. Holmes leaped into the air, but the ball went right through his outstretched hands. Lining up to try again, Ben took the snap, looked at the running back, covered…looked at Heath Miller, covered, Hines Ward, covered, then threw an amazing pass to the right corner of the endzone where Holmes extended himself, grabbed the ball, and tapped his toes in on the turf, falling like a tree out of bounds. Steeler fans rejoiced as the official signaled touchdown and rejoiced again as it was upheld after review. The Steeler defense had the last word as Lamar Woodley sacked Warner causing a fumble.
Holmes was named MVP, finishing with 7 receptions for 131 yards and that incredible winning touchdown. Mike Tomlin became the youngest coach (at 36) to win a Superbowl. And to top it all off, it was watched by more people than any other television program in American history.
Click on the images for a larger version.
Drawing Notes
Pencils on 11×14 Strathmore 300 smooth bristol: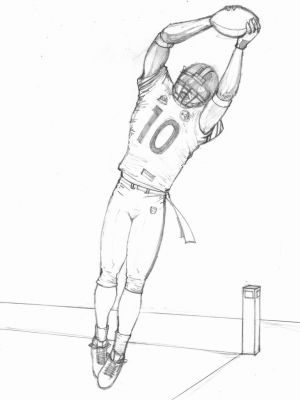 Printed out the pencil drawing after lightening it in Photoshop a bit on 11×14 Strathmore watercolor paper. Colored using watercolor paints and some colored pencils.