Thu 11 Dec 2008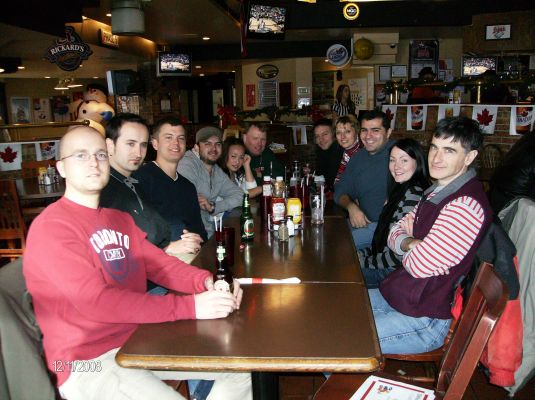 Pictured clockwise, Chris "The Ghost" Walker, Ron "Randy Moss" Burman,
James "Smooth" Muir, John "Are You Sarah" O'Connor, Jesusa "Pinkie" Tran,
Paul "The Mad Bomber" McRae, Kirk "I'm Just An Ordinary Superstar" Ireland,
Larisa "Jerry Jones" Christensen, Carlos "The Jackal" Nahas, Marie "Fair Weather" Cote, and Peter "The Rabbit" Arseneau.
Kanata, ON — The Obfuscated Football League (OFL) gathered at the Kanata Local Heroes to celebrate the 2008 season and hand out its individual awards in a lavish ceremony attended by many OFL players and front office personnel.
First off was the award for "Executive of the Year" which went to the hard working Larisa Christensen of the French Foreign Legion. Tirelessly retooling her lineup from week to week in an effort to combat the league champion Irish Stout, Christensen was gratified to be honored, quoted as saying, "How about I trade this award for Kirk? Is fair, no?"
John O'Connor was honored as "Foreigner of the Year" and gratefully accepted, saying, "Why is the only true Irish bloke playing on the French team? And, miss! Miss! I want the soup and sandwich! Miss! Over here!"
Marie Cote won as "Non-Guy Player of the Year", though it will never be known for sure as she was the one who made out the certificates.
"Rookie of the Year" went to James Muir whose lengthy acceptance speech, "Thanks", truly moved the entire crowd.
"Defensive Player of the Year" was a tie, going to both Kirk Ireland of the Irish Stout and Carlos Nahas of the French Foreign Legion. "But I am much better looking," said Ireland and Nahas simultaneously.
Ireland also won for "Offensive Player of the Year" after leading the league in scoring by a wide margin. A visibly emotional Ireland stated, "I couldn't have done it without my exceptionally accurate and gutsy quarterback." Choking back the tears, he continued, "Really, I owe it all to Paul McRae. That's my teammate…that's my quarterback!"
There was barely a dry eye in the house as Paul McRae accepted the OFL MVP award for 2008. McRae was typically humble accepting his third MVP, saying, "If only these bozos had held on to a few more passes, my stats would have been even better!"
The OFL looks forward to the 2009 season as the three time champion Irish Stout look to defend their title against all comers.