Thu 27 Nov 2008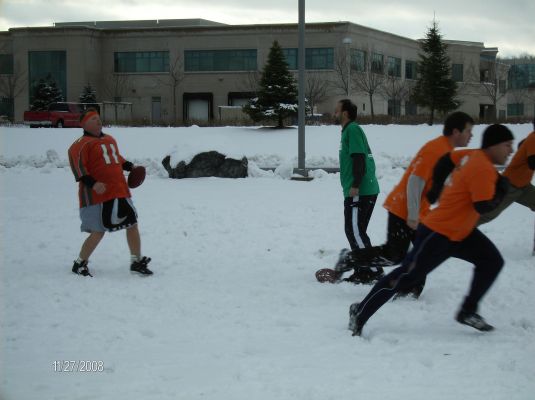 McRae Drops Back To Pass — click on image for video.
Kanata, ON — On the snow covered frozen tundra of historic Entrust Cryptographic Field, the Irish Stout rode a hot start to a 26-6 victory over their bitter OFL rivals, the French Foreign Legion, in action far more watchable than the rival NFL's Thanksgiving Day offering of Tennessee Titans 47, Detroit Lions 10.
After failing to field more than 3 players at kickoff time, the French Foreign Legion was in danger of forfeiting the game when magnanimous Stout owner Paul McRae allowed his big tight end, Dan Murdock, to play for the Legion until their complement of players could arrive. "It was the least I could do," said McRae, "I mean, seriously, the least!"
The Stout offense started the game with an offensive explosion of three touchdowns from league leading QB McRae to his sure-handed receivers James Muir and Kirk Ireland. Muir tallied two TD's, converted by Bevan Watkiss, who also contributed mightily by catching several passes in the first half. Ireland also snuffed out a Legion drive with an interception and the Stout led 20-0.
At this point, the Legion roster was bolstered by the arrival of QB/WR Carlos "The Jackal" Nahas and DT Rami "Watch Me Count Even Faster" Al-Tayeche. Murdock quickly rejoined his Stout teammates. Legion GM Larisa Christensen tried to file a motion with the league commissioner to "reset" the game to 0-0 at halftime, but, of course, neither the Detroit Lions nor the French Foreign Legion get a "do-over" when they fail to produce in the first half. "We heard of similar requests from Matt Millen," the commissioner stated, "but we all know how that ended up, don't we?"
To their credit, the Legion played much better in the second half, scoring a touchdown from Arseneau to Nahas (who also recorded an interception) and holding the Stout to a single McRae-Ireland score. However, the Legion's playoff hopes have all but disappeared as they fell to 0-7 for the season while the Stout stand atop the league at 7-0.
"We were claiming a 6-6 tie," commented Christensen after the contest had ended, "But I just got off the phone with Donovan McNabb, who assures me games cannot end that way."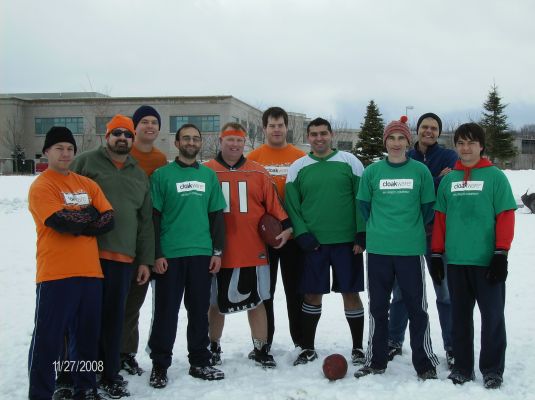 OFL Stalwarts, left to right, Ireland, Murdock, Muir, Al-Tayeche, McRae, Watkiss, Nahas, Arseneau, Gecius, Nicolescu.

BOX SCORE
November 27, 2008
Irish Stout 26, French Foreign Legion 6

Passing
-------
McRae       4 TD, 2 PAT, 1 INT
Arseneau    1 TD, 1 INT

Receiving
---------
Muir       2 TD
Ireland    2 TD
Nahas      1 TD
Watkiss    2 PAT

Defense
--------
Ireland    1 INT
Nahas      1 INT