Thu 16 Oct 2008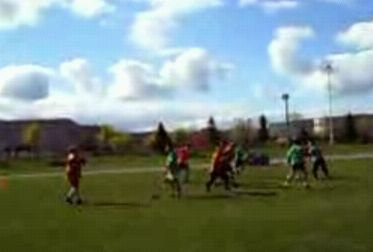 McRae Drops Back To Pass — click on image for video.
Kanata, ON — Week 3 of the 2008 OFL season saw the Irish Stout defeat the French Foreign Legion 26-6 on a breezy day at historic Entrust Cryptography Field before a record standing-room only crowd.
The Stout lined up Paul "The Mad Bomber" McRae, Bevan "Hands" Watkiss, Kirk "The Flash" Ireland, Marie "Mad Dog" Cote, as well as returning veterans Dan "Danimal" Murdock and James "Smooth" Muir. During the week, wily GM Larisa "Jerry Jones" Christensen had retooled the Legion outfit, signing free agent wide receiver Ron "Randy Moss" Burman and springing Louis "Plus Vite" Aubin from his court-ordered exile. In addition, the Legion roster was stacked with Rami "Track Suit" Al-Tayeche, Peter "The Rabbit" Arseneau, Bogdan "Terrell Owens" Nicolescu, John "Pacman" O'Connor, and Vahid "The Animal" Aftahi. Missing from the lineup was diminutive wingback Jesusa Tran due to an unfortunate and possibly season ending practice injury to her wittle pinkie. Curiously, she was not replaced with another female player on the Legion roster as per league rules. Clearly, this team was ready to compete. "Tabernacle, we are going to get dem dis time!", exclaimed Aubin, "I am sick of dis [expletive]!" His teammate, Nicolescu agreed, "[Expletive] [expletive], those [expletive] [expletive]!"
After a virtual coin toss, the Stout started on offense. After hitting Murdock on a short pattern to midfield, McRae threw a strike to Watkiss in the endzone for a quick 6-0 lead. The Stout followed this up with a pass to Muir for the conversion. The Legion then failed to score and McRae threw a long pass to Ireland against a bewildered Legion defense. On the next play, McRae again hit Watkiss for a TD. The conversion failed and the Stout led 13-0.
Finally mustering their considerable talent, Arseneau and the Legion drove the length of the field on a Nicolescu reception and scored on a spectacular catch by Burman. The conversion pass was batted down by Murdock, but the Legion trimmed the lead to 13-6.
The next Stout possession came down to a 4th down try from midfield and a McRae pass which was inexplicably intercepted by Aubin on the Legion 1 yard line. Operating deep in their own territory, the Legion were unable to drive out of their own end of the field and punted. McRae then hit a wide open Ireland on a long touchdown throw and followed this up with a conversion to Watkiss as the lead swelled to 20-6. "We don't normally audible," McRae commented after the game, "but I, I mean, the coach, gave me the option on that play and when I saw they didn't have anyone on Kirk, I yelled out our secret code 'Go, Kirk, Go!', and it seemed to work."
Ireland appeared to have an interception on the next Legion possession, but hard-charging Marie Cote had already sacked Arseneau back near the goal line. Cote applied pressure all day to Legion QB's, forcing them into bad throws on several occasions. "I'm going to be seeing her in my nightmares," said Arseneau, "Please don't make me go back out there!"
The final Legion possessions ended in a flurry of Arseneau, Nicolescu, and Aubin incompletions while the Stout tacked on another score on a bomb from McRae to Muir to make the final 26-6. The Irish Stout ran their record to 3-0 while the Legion fell to 0-3. "We get them next time," Christensen was quoted, "I cut these losers and sign more players for next week!"

BOX SCORE
October 16, 2008
Irish Stout 26, French Foreign Legion 6

Passing
-------
McRae       4 TD, 2 PAT, 1 INT
Arseneau    1 TD

Receiving
---------
Watkiss    2 TD, 1 PAT
Muir       1 TD, 1 PAT
Ireland    1 TD
Burman     1 TD

Defense
--------
Aubin      1 INT