Thu 31 Dec 2015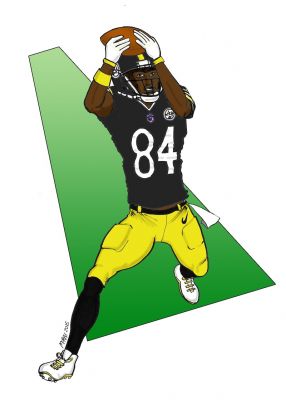 The Pittsburgh Steelers faced their toughest test coming down the stretch run to the playoffs as the AFC West-leading Denver Broncos paid a visit to the Steel City. The Steeler offense was in top form as Pittsburgh won the game 34-27 after falling behind 27-7 in the first half. Ben Roethlisberger and Antonio Brown were spectacular with Big Ben completing 40 of 55 passes for 380 yards and 3 touchdowns. Brown did his usual amazing job with 16 receptions for 189 yards and 2 TD's.
The Steelers now need to focus on the Baltimore Ravens and Cleveland Browns as they battle for a wild card playoff sport in the AFC. From the look of this game, no one is going to want to face Pittsburgh's prolific offense in the playoffs.
Click on the image for a larger version. Pencil and ink on Strathmore multimedia board. Colors in PS.