Wed 2 Dec 2015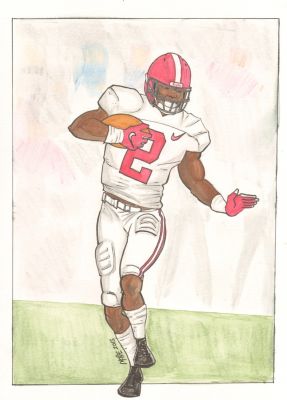 Alabama Crimson Tide running back Derrick Henry concluded his fantastic regular season with a spectacular performance against the Auburn Tigers, leading the Tide into the SEC Championship Game with a 46 carry, 271 yard day. Henry was there early, middle and late as he was the engine that drove the Alabama offence all day. Putting an exclamation point on 'Bama's win, Henry carried the ball 18 times in the fourth quarter as he set Alabama records for carries in a single game and yards in a season (1797).
It's one thing to pile up yards against lesser opponents and in games that don't matter, but Henry has responded in the biggest games Alabama has played. He should enjoy a trip to New York for the Heisman ceremony and, at this point, he is the favorite to bring home the big doorstop.
Pencil, ink, and watercolor on Strathmore Multimedia board. Click on the images for a larger version.