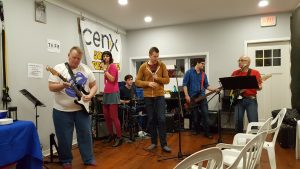 The CENX Sonic Experience played a show as part of an event to benefit the Imerman Angels charity. Imerman Angels provides FREE personalized one-on-one cancer support for cancer fighters, survivors and caregivers.
The show was hosted by the Ottawa Triathlon Club and Brent Smyth (@Shmitty67). If you or anyone you know has been given a diagnosis of cancer, you can get more info about Imerman Angels by contacting Brent at bsmyth@imermanangels.org. We were very excited to help them raise over $1100 for this worthy cause!
The complete concert can be seen here.
Lineup:
Vocals: Tanya Ruppell
Vocals: Andy Brown
Guitar and Vocals: Paul McRae
Guitar and Vocals: Julio Oliveira
Bass: Brandon Schurman
Drums: Jonathan Penny
Setlist:
Summer of '69
Fortunate Son
Jumpin' Jack Flash
Substitute
Stuck In The Middle With You
Faith
One
Johnny B. Goode
Pretty Woman
I Want To Hold Your Hand
Bad Moon Rising
Nos Vamos Invadir Sua Praia
Mr. Jones
Proud Mary
C'mon Everybody
Born To Be Wild
Pinball Wizard
Hard Day's Night
(I Can't Get No) Satisfaction
Californication