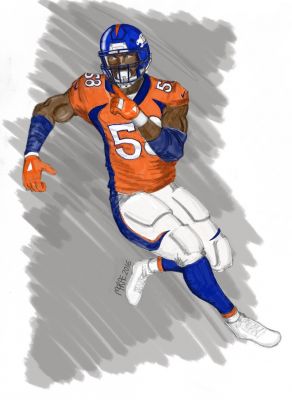 The Denver Broncos defeated the New England Patriots in the AFC Championship game 20-18 in a large part due to the superlative performance of Von Miller. Miller harassed Tom Brady all day and generally disrupted the Patriot offense at every opportunity.
Miller had two and a half sacks as well as two tackles for losses. His constant penetration frustrated the Patriot passing game as Denver was able to do the unthinkable and get pressure on Brady even on his short drops. The Denver secondary had a lot to do with this as they blanketed the New England receivers and forced Brady to go through his progressions to secondary receivers, thus allowing the pass rush to get to the quarterback.
The #1 ranked Bronco defense now takes on the Carolina Panthers in the Super Bowl.
Click on the image for a larger version.
Pencils on Strathmore Multimedia board.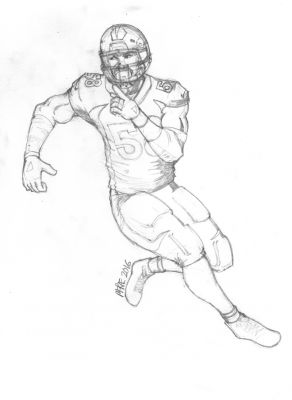 Colors in PS.