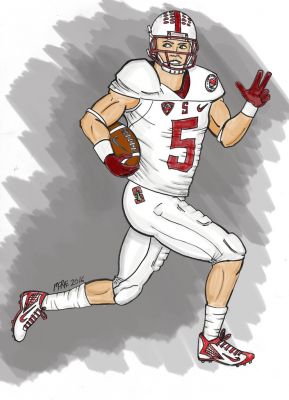 Heisman runner-up Christian McCaffrey turned in a historic performance against the Iowa Hawkeyes in the Rose Bowl as his Stanford Cardinal won in a blowout, 45-16.
McCaffrey, the son of former NFL receiver Ed McCaffrey, showed all of his game as he rushed for 172 on 18 carries, caught 4 passes for 105 yards (including a 75 yard TD on the game's first play), and tallied another 91 yards on punt and kickoff returns. His 368 total yards were a Rose Bowl record.
The talented back demonstrated exceptional speed and moves while also showing a capability to catch the ball out of the backfield and excel on special teams. Such all-around performances are rare in big time college football as players grow more specialized.
A sophomore, McCaffrey will undoubtedly be the Heisman trophy favorite next season.
Pencil and ink on Strathmore Multimedia board. Colors in PS. Click on the images for a larger version.