The National Air Force Museum of Canada in Trenton, ON, features a nice collection of aircraft, most of which served in the RCAF. A few examples are housed indoors, but most reside outside in the "airpark".
Greeting visitors from the highway is an F-5 Freedom Fighter (technically the Canadair CF-116 variant) mounted in the parking lot of the Ramada Inn.
On the museum grounds, there is another example of this single seat jet fighter.
Canada's first jet fighter — the Canadian-made Avro CF-100 Canuck. Janusz Żurakowski dove a CF-100 to the speed of sound in 1952, technically making it Canada's first supersonic fighter.
The Canadair CF-114 Tutor is flown by Canada's aerobatic flight team, the Snowbirds.
The MiG-21 was a Cold War interceptor flown by the USSR and its allies.
Canada flew a home-grown variant of the Lockheed F-104 Starfighter built by Canadair — this model is a two seat training version.
The Labrador served in the RCAF from 1965 to 2004. This example was the last to fly in Canada.
Still Canada's front line fighter/bomber aircraft, the CF-18 Hornet built by McDonnell Douglas

Another home-build variant of an American classic jet fighter, the Canadair F-86 Sabre.
The Boeing B720 was used as a passenger aircraft, then engine test vehicle.
The C-130 Hercules is still a hard-working transportation aircraft in the RCAF.
The McDonnell CF-101 Voodoo was flown by the RCAF during the Cold War, 1971 to 1984.
The Canadair Argus was used for maritime patrol.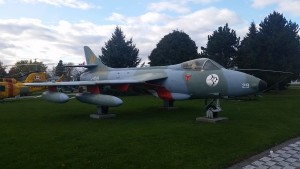 This example of the Hawker Hunter jet fighter/bomber flew with the Swiss Air Force aerobatic team.
Canadair built a version of the Lockheed T-33 Shooting Star trainer, the CT-133 Silver Star. Some are still in service with the Bolivian Air Force.
The deHavilland Tracker was a maritime patrol aircraft, flown from shore bases once it was retired from aircraft carrier duty.
French built SAGEM Sperwer drone was used in Afghanistan for reconnaissance duty between 2003 and 2009.
A spectacular restoration of a Handley Page Halifax MK VII greets visitors as they enter the museum.
Close up of the Halifax tail gun station.
All in all, a terrific museum and staffed by an incredible team comprised mostly of volunteers. If you have the chance, go visit the Canadian Air Force Museum, just off Highway 401 in Trenton, ON, Canada.