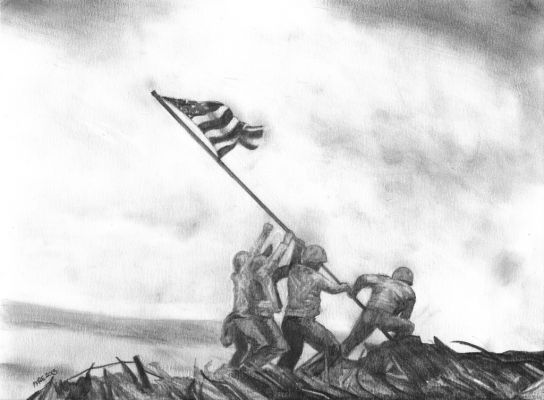 February 23, 2015 marks the 70th anniversary of the raising of the American flag on Iwo Jima.
You can read the history of the brave Marines who took the tiny island of Iwo Jima from the Japanese in 1945 here. One of the most enduring images in history emerged from this conflict when Joe Rosenthal snapped the photo of a group of Marines raising the flag on Mount Suribachi. It was actually the second flag raising that day, but it produced one of the most memorable images of WWII and one of the most reproduced photos of all time.
Iwo Jima became a haven for American B-29 bombers returning from sorties over Japan. The bloody battle for this little volcanic speck in the Pacific Ocean has become synonymous with the description of any titanic struggle. To gauge the magnitude of this conflict, we only need to recount this stark statistic: of the 22,000 Japanese soldiers stationed on Iwo Jima, only 216 were taken prisoner.
Pencil on Strathmore Multimedia board. Click on the image for a larger version.