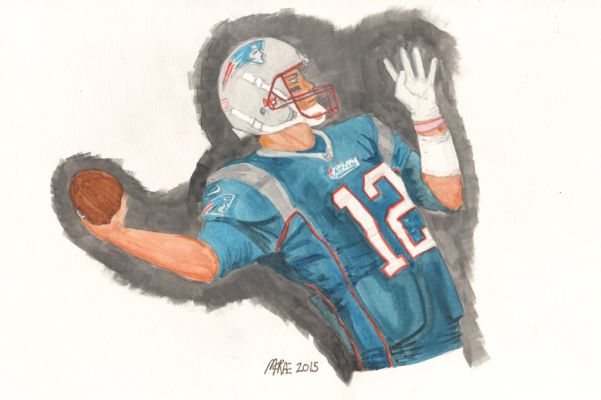 After defeating the Indianapolis Colts and Green Bay Packers respectively, the New England Patriots and the Seattle Seahawks now square off in Super Bowl XLIX.
The Seahawks played a mediocre game against the Packers, but forced the Pack to settle for field goals on several trips inside the red zone. That left the door open for huge Seattle comeback in the fourth quarter as Russell Wilson found his groove (after throwing 4 interceptions) and Marshawn Lynch started rambling. A fortuitous onside kick recovery and a great throw by Wilson in overtime allowed the Seahawks to prevail.
The Patriots, on the other hand, dismantled a good Colts squad 45-7, but are now ensnared in one of the biggest controversies to hit the NFL, DeflateGate. Eleven of the twelve New England footballs were found to be underinflated which presumably gave the Pats an advantage gripping the ball, especially considering the weather conditions. This did not really affect the outcome, but anything that threatens the integrity of the game is taken very seriously by the league and its fans.
If the Seahawks play as poorly against New England as they played for most of the game against Green Bay, the Patriots will win big. However, New England needs to generate favorable matchups for Rob Gronkowski against the excellent set of linebackers and safeties that Seattle fields. Brady's accurate passing will be going against what is probably the best secondary in the NFL, but injuries to both cornerback Richard Sherman (elbow) and safety Earl Thomas (shoulder) will lessen their effectiveness. An X-factor could be running back LeGarrette Blount, who has the size to pound away at the Seattle front and has excelled in post-season games.
Patriots' coach Bill Belichick will take away the best offensive option, which for Seattle would be running back Marshawn Lynch. The Pats will force Russell Wilson to win the game. New England will try to minimize Wilson's scrambling out of the pocket as well.
As far as special teams go, it would seem to be a wash — each kicker and punter is very capable. A possible differentiator here might be Patriot punt returner Julian Edelmann, who is fearless in dashing up the field. A line drive punt by Seattle might be a deciding factor.
If the Patriots can force Wilson to throw from the pocket on defense and get Gronk open on offense, they should win the game. However, it should be a fairly close contest, New England 31, Seattle 24.
Watercolor on Strathmore Multimedia board. Click on the image for a larger version. You can also purchase a print here.