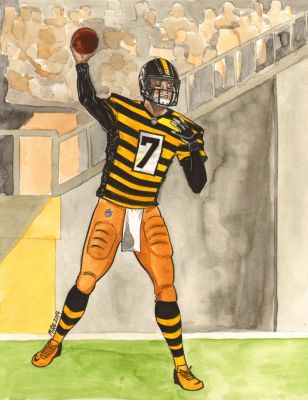 Against the favored Indianapolis Colts, Ben Roethlisberger delivered an historic performance at Heinz Field on Sunday becoming the first quarterback to pass for more than 500 yards in a single game twice. Wearing their hideous bumble bee throwback uniforms, the Steelers surged ahead, but the Colts kept on coming on and scoring against the Steeler defense. This led Pittsburgh to continue to be aggressive on offence and Ben was very sharp. He completed 40 of 49 passes for 522 yards (fourth highest all-time) and 6 touchdowns. The yardage and touchdowns were all Steeler franchise records. Pittsburgh prevailed 51-34 and now face their bitter rivals, the Baltimore Ravens, next Sunday night.
Watercolor over pencil and ink.
Pencils on Strathmore Multimedia board.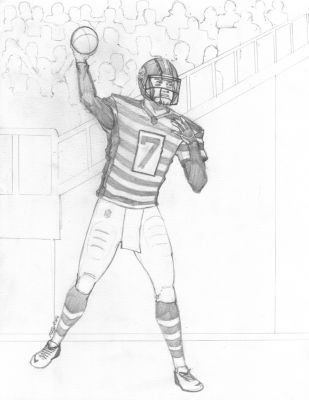 Inks.