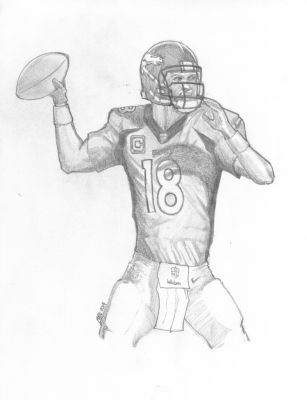 Manning started the game against the Kansas City Chiefs with his usual, almost robotic, efficiency. Throwing super-accurate passes to a variety of receivers, he marched the Denver Broncos down the field to an early 7-0 lead. He continued to move the ball and by the end of the half, he had thrown 3 touchdowns and the Broncos led the Chiefs 21-10.
The Broncos took their foot off the accelerator in the second half but the Chiefs could not take advantage in the 3rd quarter as neither team scored. Kansas City finally mounted a drive in the fourth quarter and closed the gap to 21-17, but the Broncos hit a field goal to go up by 7. At the end of the game, the Broncos held off the Chiefs on the goal line as they attempted to tie the game.
For the game, Manning was 21 of 26 for 246 yards and 3 touchdowns without throwing an interception.
Click on the image for a larger version.