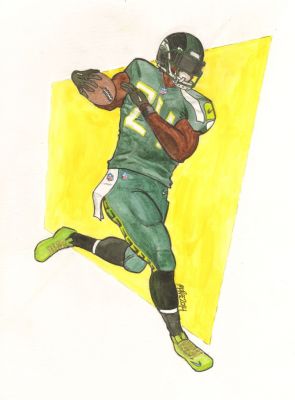 The New Orleans Saints, fresh off their upset win at Philadelphia, travelled to the rainy Pacific Northwest to face the #1 seed Seattle Seahawks in the Divisional Round and ran into a buzzsaw. The Seahawks opportunistic defense and the running of Marshawn Lynch dominated the Saints as the Seahawks won 23-15 in a game not quite as close as the score would indicate.
Lynch battered the Saints defense for 140 yards on 28 bruising carries, including 2 touchdown runs. The clincher was his 31 yard TD scamper with 2:40 remaining in the fourth quarter to ice the game.
Lynch and the Seahawks will now face their rival, the San Francisco 49'ers, in the NFC Championship game for the right to go to the Superbowl.
Pencils, ink, and watercolor on Strathmore Multimedia board. Click on the images for a larger version.