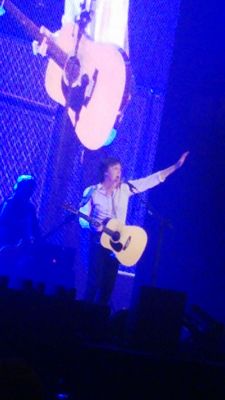 Paul McCartney put on one of the greatest shows that Ottawa has ever seen as the former Beatle and his 4 piece backup band dazzled a packed house at the Scotiabank Place/Canadian Tire Centre arena. Playing a set largely consisting of well-known Beatles tunes and hits from his 70's band, Wings, McCartney entertained the enthusiastic and appreciative crowd for nearly 3 hours, even returning for 2 encores. Perhaps the most impressive aspect of this concert was the lack of backup singers, scantily clad dancers, numerous auxiliary musicians, electronic backing tracks, etc. that are so prevalent with the shows produced today. Rusty Anderson and Brian Ray played lead and rhythm guitar and Ray played bass when Sir Paul strapped on a guitar, while Paul Wickens was a jack-of-all-trades, contributing keyboards, harmonica, percussion, and even accordian to the mix. Abe Laboriel, Jr., laid down a solid and energetic beat on the drums.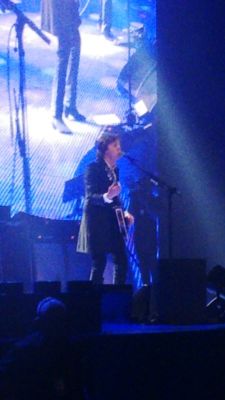 McCartney's voice was in fine form (as evidenced by the fact that most of the songs were performed in their original keys) and the sound system was perfect — no distortion or bad mixing of voices and instruments that are common in venues of this kind. Highlights of the set were a rocking rendition of "Back in the USSR" and a literally explosive version of "Live and Let Die" in which the pyrotechnics almost overwhelmed the musical performance. The traditional favorites like "Let It Be" and "Hey, Jude" were soulfully performed and "Day Tripper" and "Helter Skelter" helped round out the evening as part of the encores.
As the first stop on this North American leg of the "Out There" tour, this show proves that McCartney is already in fine form and that future audiences can look forward to a terrific show. More pictures from the show can be seen here and a video of "Day Tripper" can be found here.
Paul McCartney Setlist, Ottawa, July 7, 2013
Eight Days a Week
Junior's Farm (Wings)
All My Loving
Listen to What the Man Said (Wings)
Let Me Roll It (Wings) with snippet of Hendrix's "Foxy Lady"
Paperback Writer
My Valentine (Solo)
The Long and Winding Road
Maybe I'm Amazed (Solo)
I've Just Seen a Face
We Can Work It Out
Another Day (Solo)
And I Love Her
Blackbird
Here Today (Solo)
Your Mother Should Know
Lady Madonna
All Together Now
Michelle
Lovely Rita
Mrs. Vandebilt (Wings)
Eleanor Rigby
Being for the Benefit of Mr. Kite!
Something
Ob-La-Di, Ob-La-Da
Band on the Run (Wings)
Back in the U.S.S.R.
Let It Be
Live and Let Die (Wings)
Hey Jude
Encore 1:
Day Tripper
Hi, Hi, Hi (Wings)
Get Back
Encore 2:
Yesterday
Mull of Kintyre (Wings) feat. Ottawa Police Service Pipe Band
Helter Skelter
Golden Slumbers
Carry That Weight
The End