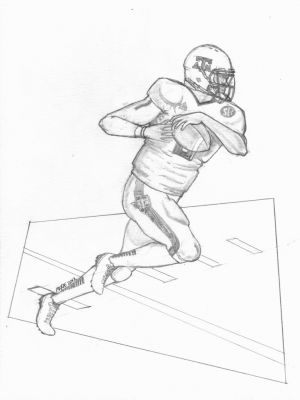 Johnny Manziel burst on the college football scene this year as a redshirt freshman, earning the name "Johnny Football". Manziel slithered through tacklers, threw touchdowns, and generally looked like he had fun doing it. Then, on November 10th, he had his Heisman moment as he led the Aggies to a stunning 29-24 victory over the #1 ranked and seemingly impregnable Alabama Crimson Tide. Most of the fireworks were in the first quarter as the Aggies raced out to a 20-0 lead on the strength of Manziel's 10-11 passing and his slashing runs. Texas A&M held on and held on, right to the end when the Tide's A.J. McCarron was intercepted in the endzone with 1:42 remaining the the contest. For the game, Manziel passed for 253 yards and 2 TD's and rushed for 92 yards.
Manziel has broken the single season total offense records of both Cam Newton and Tim Tebow in Texas A&M's first season in the tough SEC. He is now positioned to follow them as a Heisman Trophy winner as well.
Sketch on Strathmore Multimedia Paper.
Click on the image for a larger version.