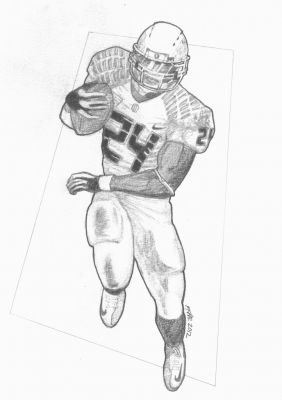 As the Oregon Ducks defeated the USC Trojans on their home turf in a shootout, 62-51, Kenjon Barner turned in one of the great performances of this or any season. Barner, operating out of Oregon Head Coach Chip Kelly's "Quack Attack" quick hitting offense, piled up 321 yards on 38 carries and scored 5 touchdowns. The Ducks maintained a lead throughout the game, but the Trojans would not let up and kept within striking distance. It was the first game all year in which
Oregon had to keep their starters in and it makes one pause to think what kind of numbers Barner might run up if he played full games.
The Ducks have a tough road ahead to nab a spot in the BSC National Championship game — they need to beat Stanford, win the Civil War against Oregon State, and then claim the PAC-12 title by prevailing in the first title game for that conference.
Click on the image for a larger version.
Pencil on Canson Watercolor Block