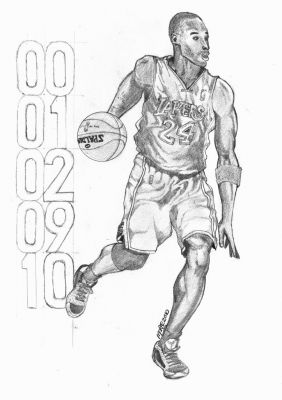 The Los Angeles Lakers defeated their bitter rivals, the Boston Celtics, in a heart stopping game 7 of the NBA Finals to win their 16th title. Despite a poor game from series MVP Kobe Bryant (6 for 24 from the field), the rest of the Lakers picked up the slack, most notably Ron Artest. Artest, who is flaky at the best of times, played effective defense on Paul Pierce and with one minute to go, unleashed a perfect 3 point shot that put the game on ice. After the game, Ron Ron gave the best post game interview in sports history, thanking his psychiatrist and talking about how he heard Phil's voice in his head telling him not to shoot. He also found time to plug his new single, "Champion".
Gasol hit a key shot down the stretch and Derek Fisher nailed a 3 that tied the game at 64 as the Lakers came back from being down 13 points at the 8 minute mark of the third quarter. The game ended in a flurry of 3's as Wallace, Pierce, and Rondo all hit big shots to keep it close. In the end, two free throws by much maligned Sasha Vujacic provided the winning margin. While Kobe couldn't score, he played tough D on Rondo and hauled in 15 rebounds. After averaging 28.6 points per game for the series, Bryant was awarded the Finals MVP award to go with his fifth NBA Championship.
Depending in the health and whim of head coach Phil Jackson (now the proud owner of 11 rings as coach), the Lakers may be a contender next year and for some time to come. Kobe, Gasol, Artest, and Lamar Odom are all signed for the next few years. The key will be the Zen Master — if Phil decides to tough out another year upon his courtside throne, he could end up with 4 threepeats, a feat almost certainly not to be duplicated.
Click on the image for a larger version.