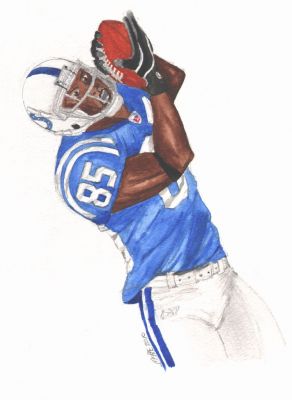 With the New York Jets putting pressure on the Indianapolis Colts' quarterback non-pareil Peyton Manning, Darelle Revis shutting down Reggie Wayne, and double coverage on Dallas Clark, the Colts were looking for answers as the Jets took a 17-6 lead in the first half of the AFC Championship Game at Lucas Oil Stadium Sunday. Manning turned to rookie Austin Collie and second year man Pierre Garcon and they responded. Garcon caught 11 passes for 151 yards and a touchdown in helping the Colts score 24 unanswered points to defeat the Jets and secure their spot in Superbowl XLIV.
Garcon, who only recently found out that his family is Haiti was still alive, turned in a superlative effort. With Manning's increased confidence in his young receivers, the Colts' offense is going to be a huge factor as they face the New Orleans Saints in the Superbowl.
Click in the image for a larger version.
Here is the original pencil sketch (on Strathmore watercolor paper):