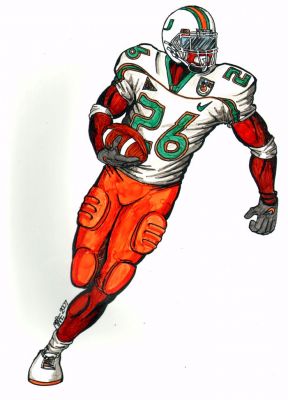 Being a Miami Hurricane fan means that I have been watching Sean Taylor play football since he was a freshman on the 2001 National Champion team. A ferocious hitter, Taylor excelled for the Hurricanes and was a first round draft pick of the Washington Redskins, the fifth player taken in the 2004 draft. Though he had his ups and downs on and off the field, he was one of the NFL's best safeties and played in the Pro Bowl following the 2006 season, providing the highlight of that normally boring affair when he blasted Buffalo punter Brian Moorman as Moorman tried to pick up a first down on a fake punt.
He became a father and was engaged to be married. His teammates said that ever since the birth of his daughter, he was a changed man — humble, caring, a "team player".
On November 26, 2007, Sean was shot by an intruder in his home and died of his injuries the next day.
Speculation immediately ensued. Was this a "hit" by a criminal element that Taylor was associated with? Was he trying to cut ties with his old neighborhood and they didn't want to let go? Was it simply a random burglary?
In my opinion, it really doesn't matter. He did not deserve to be gunned down in his own home leaving his 18 month old daughter to grow up without her natural father. I find it hard to imagine a criminal enterprise that Taylor could have been involved in that would cause me to sit back and think, "Oh yeah, he deserved this." Michael Vick abused dogs and deserves to go to jail. Even Rae Carruth is paying his debt to society, not lying cold in the ground. Sean Taylor should have had the chance to deal with his past, enjoy his present, and look forward to his future. He was just 24 years old.
Rest in peace, Sean.
Click on the image for a larger version.