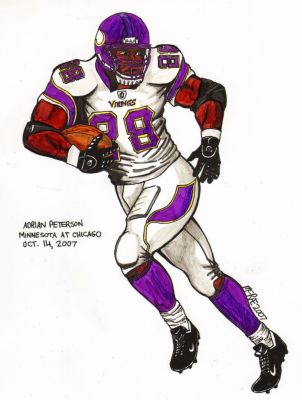 On a field upon which legends like Gayle Sayers and Walter Payton once roamed, a new NFL superstar burst on the scene when Adrian Peterson, the rookie running back for the Minnesota Vikings, tore up the Monsters of the Midway to the tune of 20 carries for 224 yards and 3 touchdowns. College fans will remember Peterson from his fantastic freshman season when he finished second in the Heisman Trophy voting. His freshman NFL season is turning out to be pretty special as he currently leads the NFL in rushing with 607 yards and sports a gaudy 6.3 yards per carry average.
In the game, Peterson set the Viking record for rushing yards in a single game and the NFL record for total yards by a rookie, with 361. His touchdown runs were from 67, 73, and 35 yards out and he tacked on 128 return yards.
Click on the image for a larger version.