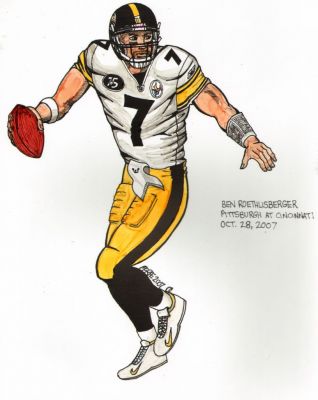 Big Ben Roethlisberger gets the POTW honors for his nearly flawless performance against the Cincinnati Bengals on the road at Paul Brown Stadium. Ben was extremely effective moving the Steelers downfield by completing third down passes and scrambling for first downs. He evaded the rush and completed passes with defenders hanging all over him. His only mistake was an interception down near the Bengal goal line after which the Bengals drove the length of the field for a score that kept them in the game. However, Ben and the Steelers responded with a drive for a field goal that put the game on ice.
For the day Ben was 19 of 30 for 230 yards, two touchdowns, and that interception.
Click on the image for a larger version.