The Police put on a great show at the Bell Centre in Montreal. Playing all the old favorites, the band demonstrated an energy that belied their years. A few of the transitions were a bit awkward, but overall the performance was a blast. Sting was in fine vocal form, Stewart Copeland re-established himself as one of the best drummers ever, and Andy Summers vented 30 years of frustration with some great solos that are not present in the recorded versions of these tunes. The band was, for the most part, tight and flawless.
Setlist:
Message in a Bottle
Synchronicity II
Walking On The Moon
Voices Inside My Head
When The World Is Running Down
Don't Stand So Close To Me
Driven To Tears
Truth Hits Everybody
Bed's Too Big Without You
Every Little Thing She Does Is Magic
Wrapped Around Your Finger
De Do Do Do De Da Da Da
Invisible Sun
Walking In Your Footsteps
Can't Stand Losing You
Roxanne
King Of Pain
So Lonely
Every Breath You Take
Next To You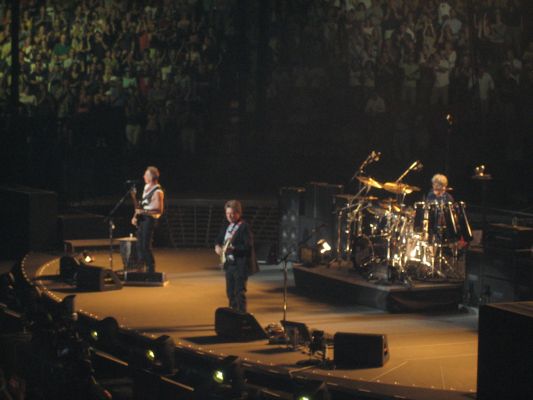 More stuff can be seen in the gallery.